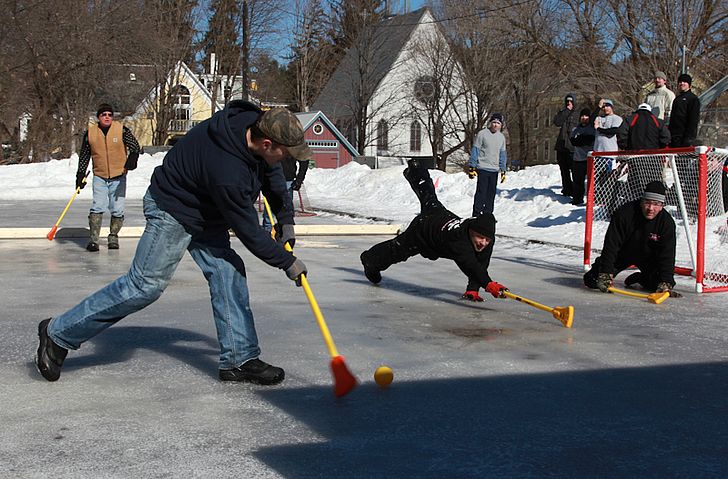 Throughout my years growing up on Radcliffe Road in Wellesley, Massachusetts, street hockey framed our lives and filled our afternoons after we returned from school each day during the winter months. Thanks to the generosity of Jim and Betty Fay, we played all of our games in the Fays' sloped driveway at 51 Radcliffe Road. For safety and monetary reasons, we used tennis balls for our pucks. While we first used old shoes as the borders for our goalposts, we eventually began to construct a series of self-made wooden net largely thanks to my older brother, Mark.
Our sticks were normally provided by our neighbor and close friend, Lynn Patrick, whose sons, Craig, Glenn, and Dean were frequent participants until they moved to California in the summer of 1965. Mr. Patrick, who was then the General Manager of the Boston Bruins, regularly gathered leftover broken sticks from the NHL games played the night before at old Boston Garden and brought them to us to use for our pickup games. On any given winter afternoon, you could find one of our players rifling a tennis ball towards the crease of the net using an authentic Bobby Hull stick with a slight nick at the base of the blade. The shot then would be stopped by the opposing goaltender, who was handling a cracked Jacques Plante goalie stick. Lightning doesn't normally strike twice. Even then, we knew how fortunate we were.
One blustery afternoon, while we were in the midst of some furious play in the Patricks' driveway in the fall of 1962, Mr. Patrick slowly drove into his driveway, stopped, got out of his oversized Buick, and handed us all a handful of used sticks. "Boys," he said, "we recently signed a young man who's not much older than you – he's fourteen – and the kid just might become the best player we've ever had here in Boston."
That was the first time I ever heard about Bobby Orr.
Our neighborhood street hockey games turned out to be our first experience in American democracy. We instigated and then enforced the rules and even traded players in the middle of games if the score became too lopsided for one side. Thanks to the explosion of children of all ages and sizes on our street, our daily skirmishes regularly involved over a dozen kids, ranging in age from 5 to 17. We tried to set up the little ones to score and let them park themselves in front of the net. The older you were, the more the rules were germane. As we soon discovered, armed neutrality made it much easier to detect duplicity. In reality, compromise lay at the cornerstone of it all.
And we played hard.
Mr. Jim Fay, who witnessed hundreds of our contests from his family's adjoining kitchen, once described being caught in front of our net as the equivalent to caught being in the epicenter of a hurricane. Although we had much younger kids playing with us regularly, the talent level over the years was notable. Several of our players went on to play at the varsity level in high school. Two of them, Craig and Glenn Patrick – eventually played in the National Hockey League.
Because we had only one net (our backboard, after all, was either the Patricks' or the Fays' garage door), the only player that actually played for both teams was the goalie.
For nearly 10 years, I was that goaltender.
Originally, I inserted myself there because I owned a right-handed first baseman's glove, which served as a proficient foil because the assorted balls that were hurtled onto the net routinely soared above ground. If truth be told, my stick side was slower than the second hand of a Bulova watch. Accordingly, I eventually adjusted and began to hug the left side post. I ended up adopting a decidedly simple mindset: Let's see if you can score on my catlike glove that could, in my mind, stop anything.
Thankfully, of course, the various participants weren't firing rock-like pucks. Nevertheless, I was pelted each winter for more than a 100 days with an arsenal of tennis balls heading towards me at Mach-1 speed. Of course, whenever it was below 20 degrees – we played in virtually all kinds of weather – the balls would inevitably freeze, which would create moon-sized welts on my legs, stomach, and shoulders.
By 1967, I began wearing a simple goalie mask, which I purchased for $7.99 at Olken's, a local sporting goods store in Wellesley. It took me two weeks to save up my entire earnings as a paperboy to but the mask, but it was well worth it. The mask ended up saving me a few stitches and several broken noses over the years until I finally "retired" it when I ventured off to college years later.
We all adopted nicknames based on NHL stars at the time. As our neighborhood street hockey goalie, for instance, I soon became known as "Rogie," for Rogatien Vachon, the then acrobatic Montreal Canadians netminder who later starred with the Los Angeles Kings.
Because we spent hundreds of hours playing street hockey against one another, we eventually developed our own vernacular over time: a "lapper" for a slap shot, a "tipper" for a deflection, and a "pickle" for a glove-save. "Flick" as in "flick my lobe" became our acknowledged curse word that wouldn't offend very young ears. Not surprisingly, however, an occasional "f-bomb" would be dropped if a player was stung by a lapper. As a goalie, of course, the one thing I dreaded was being hit with a "cube shot" as we came to call it, a slap shot or a deflection, smack in the gonads.
I clearly remember one time when that occurred just as Mrs. Fay was turning her car to drive into her driveway. I was still sprawled, face down, on the cement driveway in agony when a ball struck me in the no-no place just as she began her ascent up to her garage. I finally rolled myself over and over like a seal in the surf so that Mrs. Fay could then drive her car to her appointed spot. She chuckled softly to herself as she drove by my still prone body.
In the end, however, our most beloved expression that we coined over the years in street hockey occurred was the result of a major blizzard that hit New England like a blitzkrieg. On Sunday evening, February 10, 1969, an unyielding winter storm brought thirty-four inches of wet snow to the region. The historic tempest, the most notable to hit the Commonwealth until the infamous Blizzard of '78, was accompanied by high winds, which blanketed our streets to such an extent that Massachusetts Governor Frank Sargent ordered public schools to be closed for a week.
Virtually no one had a snow blower on Radcliffe Road then. Because each family had a gaggle of kids thanks to the Baby Boom, everyone old enough began to shovel when the storm finally subsided Monday afternoon. It took most families the next 24 hours to push the impossibly heavy mush to the side. When we finally finished shoveling our driveway by Tuesday around noon (the event was so traumatizing that my sister ended up moving down south for good), I crossed Radcliffe Road and in order to see if the Fays had also excavated themselves out as well. As I got closer, it was obvious that at least five of the seven Fay children had purposely shoveled the vast amount of snow off to one side of their long driveway. Hence, a white-capped Berlin Wall now framed the left side edge of the entrance. At its apex, the barrier was over nine feet in height!
After we commenced playing street hockey that Tuesday afternoon, the intimacy of being fenced in by snow was mesmerizing. I soon began to knock away shots on goal with my stick by ricocheting tennis balls towards the wall. Each ball would vault off the rock-hard barrier and spring down the driveway and away from the players bunched up toward the net. "Now that's what I call icing!" I bellowed.
Because the backup center for our Boston Celtics at the time, Wayne Embry, had been given the nickname, "Wayne the Wall," by Boston Celtics broadcaster, Johnny Most, we nimbly named the gigantic snowbank after him.
Over the next six weeks, "Wayne the Wall" stood tall in every sense of the word. The offensive players used the wall as the ultimate deflector; they would intentionally aim for it at an angle in hopes that it would then reverberate off the bank and on a certain unsuspecting goaltender. When I mentioned one time that "Wayne the Wall" should be credited with the goal if it was scored on a "snowbank deflection," my peers readily agreed with me. As I learned to use it as a clearing spot away from the offensive players, the wall as my most conspicuous defensive weapon that winter.
Thankfully, a prolonged cold spell maintained the breadth and elevation of the barrier. Still, we found it almost miraculous that it stayed so prodigious for so long. Each morning, "Wayne the Wall" seemed as renewed as we were that winter. It shimmered like a daunting ice sculpture in the glacial sun and stayed strong and resolute for us until we got back home from school.
When the inevitable spring season finally came to New England later on, "Wayne the Wall" predictably began to melt away. Betsy Fay and I had a burial ceremony for it one April afternoon when the snowbank had shrunk to a mere two inches off the ground. As Mr. Fay said to me at the time, "We shall not see the likes of such a wall again."
Although we continued to play street hockey over at the Fays for a handful of years afterward, the winter of "Wayne the Wall" proved to be our Finest Hour. By the time we had puts our sticks away, and the snow had vanished into the promise of spring, our beloved barrier reminded us that life had no pleasure unless it was shared with one another and that fairness didn't mean that everything was going to be parcelled out equally. We learned about being part of something larger than ourselves, and that the good things in life often come from the most unexpected of places.
30 years later, I stopped by to visit the Fays one summer afternoon when I was in the area. I ended up sitting in Mr. Fay's beloved porch as a forgiving summer breeze swirled around us. After we had reminisced for a spell, I asked him, "Do you remember 'Wayne the Wall'?"
Mr. Fay's laughter echoed through the porch, " Shaun, I remember it like it was yesterday!"
"Well, Mr. Fay, I remember when you used to peek out the kitchen window and watch us," I responded. "The amazing thing was that the wall remained so solid for so long that winter!"
Mr. Fay looked at me with a quizzical expression, "I thought all you kids knew. You see, during that time, any time it was freezing outside at night, I'd go out and turn on the water, point our hose at 'Wayne the Wall,', and let nature take over."
"Oh, my God," I answered, "So that's why it always seemed as good as new every morning!"
Mr. Fay beamed at me from his lounge chair.
As I said goodbye to him a few minutes later, I said, "You know, Mr. Fay, 'Wayne the Wall' was one of the best memories I had here!"
Mr. Fay, who would die within a year, smiled knowingly at me.
"Me too," he replied.