On an arctic March afternoon in 1964, at precisely 3:00 pm EST, I switched on my cream-colored plastic clock radio preset at 850 on the AM dial. Despite the snow showers that had begun trickling intermittently in greater Boston at that moment, when I heard the baseball-themed jingle on WHDH Radio Boston, it instantly morphed into a scorching summer day.
"You're just in time/For the ballgame/You're just in time for excitement and fun/WHDH has reserved your place/We're glad you could make it/We know you'll have fun/Here's Curt Gowdy standing by/The 'Voice of the Red Sox'/A real nice guy…."
"From Scottsdale, Arizona," announcer, Curt Gowdy, roared, "it's the Boston Red Sox versus the Chicago Cubs in an interleague spring training game live from America's magnificent Southwest!"
Notwithstanding the precarious nature of Boston's American League franchise at the time, I was a nine-year-old true believer who had begun following my local baseball team on a pitch-by-pitch basis the previous season. In 1964, though, the Boston Red Sox were an updated version of the old St. Louis Browns – perennial, lovable losers who were forever blowing games by 11-10 scores. After suffering more than a decade of losing records, Boston's big league team had ultimately accumulated enough 90-plus losing seasons to have been referenced by the head of the team's own fan club as the Red Flops.
Thus, when I flipped on the spring training game in my house in Wellesley, Massachusetts, Johnny Pesky was once again the franchise's manager, shepherding a squad who exuded extremo mediocritatem, even though the Bosox did have the reigning American League Batting Champion, Carl Yastrzemski, and baseball's most feared reliever, Dick "The Monster" Radatz.
As I listened intently on that frigid afternoon, there was a new name that was repeatedly mentioned by Red Sox announcers Curt Gowdy, Ned Martin, and Art Gleason – Anthony Richard "Tony" Conigliaro. He was barely 19 at the time, a right-handed hitter and outfielder who possessed a transcendent swing that seemed to be designed for Fenway Park itself. A Bostonian by birth, Conigliaro had graduated from St. Mary's High School in Lynn in '63 and had then hit 24 home runs in 83 games as an eighteen-year-older for the Wellsville Red Sox of the New York Penn League. The word had already spread to the hinterlands: Boston might have itself a diamond luminary on the horizon.
Consequently, I was curious to hear about the exploits of young Conigliaro. When the contest ended two hours later, I was an unmitigated believer. Tony ended up finishing the game going 3 for 4, including a double off the center-field wall. Before he signed off, the Sox's broadcaster, the eloquent Ned Martin, commented, "This kid, a New England thoroughbred in every way, just might possess the right mix to paint permanent smiles on the faces of Red Sox fans in 1964 – and beyond."
At that time, baseball oozed through my pores like maple syrup. Over the previous two years, it had become my solitary obsession. I began watching Red Sox games with my grandfather in his cottage on Cape Cod during the summer of '63. When he encouraged me to go to the local library to read more about the game, a sympathetic librarian recommended that I read the baseball-based novels of John R. Tunis, a popular children's author whose prose was written for specifically for boys between the age of 9 and 12.
Ultimately, I ended up reading everything from The Kid from Tompkinsville to The Kid Comes Back. Because so many of Tunis's fictional characters were hometown players who eventually made good, I instinctively felt that Tony Conigliaro was somehow a come-to-life figure from one of Tunis's narratives. As a nine-year-old at the time, I was magically caught in the midst of the breezy nonchalance of boyhood at that time; consequently, every day seemed like summer to me. For perhaps the last time of my life, the days and weeks were each framed by their own unexpected pleasures. In 1964, Tony Conigliaro embodied all that the promise of life had to offer someone so young.
Thus, when Tony C. continued to mash the ball in the Cactus League over the proceeding three weeks, we who listened to Sox spring training games that March increasingly heard about the escapades of the kid from East Boston. Even though he was still a teenager and had played less than a hundred games in the minors, Conig ended up making the big league team at the end of Spring Training and was inserted in right-field in the Bronx on Opening Day, April 16, 1964. On that afternoon, an unexpected 4-3 victory by the Red Sox over the vaunted New York Yankees, the contest was highlighted by Tony Conigliaro's first major league hit, a single to left-center against future Hall of Fame hurler, Whitey Ford.
The next afternoon, Friday, April 17, Boston opened up at home against the Chicago White Sox. On that day, the Red Sox honored its most famous fan by calling it, "John F. Kennedy Day." Five months after JFK's assassination, we Bostonians could never seem to say goodbye to our hometown prince.
I rushed home from school early that afternoon to witness the festivities firsthand on the Red Sox television station throughout the 1960s, WHDH TV, Channel 5. By that time, the field was sheathed in a brilliant golden hue, a "scrubbed up" afternoon, the kind of day that Jack Kennedy loved to sail his beloved boat, The Victura, amidst the azure waters of Nantucket Sound.
As every Sox player was introduced to join his teammates along the first baseline, a conciliatory smattering of applause echoed off the far-reaches of Fenway. It was as if their precursory sins had been pardoned by collective decree. However, when announcer Curt Gowdy introduced Tony Conigliaro, the local phenom received a tumultuous response from the hometown faithful as he sprinted out to the first baseline to join his teammates. A few minutes later, when the Red Sox starters dashed out onto the grass for the top of the first inning, Conig hustled towards rightfield, his newly assigned patch of turf at the beloved Jersey Street ballpark.
In his first home contest as a big-leaguer, the team's new right-fielder was inserted in the seventh hole in the batting order. After Boston went quietly in the first, the Sox scored a run and had two outs in the bottom of the second when Conig approached home plate for the first time at Fenway Park as a member of the Boston Red Sox. Through the glare of spring sun and cigarette smoke, public address announcer Sherm Feller's Delphonic voice clipped through the haze: "And now batting seventh for the Red Sox…. number 25….. Tony Conigliaro…..right field…..Conigliaro."
As soon as his name was announced, Tony dropped an array of weighted bats he had been swinging on the on-deck circle and started to finger his own particular Excalibur, a thirty-four-inch-long Louisville Slugger. As I watched the proceedings on TV, I smiled when I heard and saw a sustained wave of appreciation envelop him, a warm cocoon for the native son as he approached the batter's box at home for the first time.
After he had settled into the batter's box, Conig took a practice swing and then got into his stance, his feet wide apart, his arms forming a circle as his hands cupped the bat close to his head. He then pointed his bat at the pitcher and waited for the pitch, rearming again when the hurler took too long. His stance encompassed the plate; his head hung over home plate itself. The opposing pitcher, Chicago ace Joel Horlen, then delivered the white sphere toward home plate, belt high.
Conigliaro's swing was deliberate, a savage punch through the air as the ball met the barrel of his 33-ounce bat. The ball seemed to leap off his bat as he extended his arms and followed through, his head already looking toward the thirty-seven-foot green wall in left. The eyes of New England watched from either their seats at Fenway or home on television as the projectile began to sprout into an elegant arch and ended up sailing high over the screen for a home run on the first pitch to Tony C. at Fenway Park.
John R. Tunis couldn't have come up with a better storyline.
I literally jumped up and down in my living room as Conig sprightly circled the bases.
I was hooked for life.
The next day, I eagerly joined his local fan club and subsequently asked my baseball coach that spring to issue me Conigliaro's number, 25, as my own badge of honor to the Boston boy wonder.
As his rookie season unfolded, Tony C. was leading all American League rookies in both hitting and home runs until he fractured his arm that August. Within four months, he was already the most popular player on his team, a star of hope amidst a squad largely consisting of black holes. After he was injured and was done for the season, Conig, who had fronted a rock band as a high schooler, subsequently recorded four songs in a studio in nearby Revere. One of them, "Playing the Field," a Freddie Cannon-like rocker, received considerable air time on WMEX and WBZ, the two most renowned rock stations in Boston at the time.
Because of his exploits both on and off the field, Tony soon appeared on both The Tonight Show with Johnny Carson and disc jockey Murray the K's national radio show in New York. Conig turned out to be a most lucid interviewee – an avowed favorite of Boston sportscaster, Don Gillis. As we all soon discovered, Conigliaro spoke in a supple baritone shaded by a distinct New England-accented tone. His aptitude as a speaker was such that he would eventually make a remarkably breezy transition from player to broadcaster once his playing days were over.
By April 1965, the girls in my fourth-grade class began to wax poetic over Tony's "chocolate-brown eyes." The boys in my class – most especially me – started imitating Conig's inimitable signature stance. One could attend any Little League game that year in most New England towns and observe a dozen trying to out emulate one another with their original interpretation of the familiar Conigliaro stance and swing.
Tony C. ended his second season in the majors with aplomb. He became the youngest player to ever lead his league in home-runs when he hit 32 round-trippers that year. Conig also began to foster an emerging reputation as a superb outfielder. At the 1965 All-Star Game, Mickey Mantle was quoted as saying: "That kid out there in right field is very close to approaching Al Kaline – he's that good." Longtime Red Sox fans liked the fact that Conigliaro seemed to play the game hard no matter what the score was at the time.
"Tony was one of the most competitive players I ever played with," his former teammate, Jack Lamabe, told me years later. "There was just no quit in him. Tony cared. He was relentless – just like Roberto Clemente. Remember, I played with both men."
Beginning in the summer of 1964, I embarked on a five-season stint as a bat boy for the Orleans Cardinals of the Cape Cod Baseball League. Because my grandfather resided in Eastham, just north of Orleans, I ended up spending the months of June, July, and August at the picturesque ball field adjacent to what was then the Nauset Regional High School. Consequently, I followed much of Tony Conigliaro's early career through the reassuring voices of Curt Gowdy, Ned Martin, and later on, Ken Coleman. Like many Cape families at the time, the Red Sox radio broadcasts became the soundtrack to our summers. Everyone seemed to pause whenever Tony Conigliaro made a plate appearance. A home run or a glorious play in right field was invariably received by a succession of hosannas throughout all four corners of my grandfather's weathered Cape house.
Nevertheless, I did manage to see his exploits, firsthand, on approximately two-dozen occasions at Fenway between 1964 and 1967. During one sun-splashed afternoon, my father and I watched transfixed as Conig took batting practice before a game with the old Washington Senators. Until I witnessed Mark McGuire smack a gaggle of moonshots at Fenway during the 1999 All-Star Homerun Hitting Contest, Tony's prowess that afternoon remained the Gold Standard. In the end, he hit eight blasts over the screen – with two projectiles hitting the left-center-field light tower. My father, who had seen Babe Ruth play at Fenway in 1933, whispered to me after Tony had left the batting cage, "Only Jimmy Foxx could have hit missiles to left like Tony C. just did. This kid is a future Hall-of-Famer."
In May 1965, I was invited by my childhood friend, Trevor Gowdy, to sit in the broadcast booth as his father and Ned Martin described the action. For a fervent Red Sox fan, this was nothing less than viewing a game from Mount Olympus. I ended up sitting next to engineer Al Walker, who even gave me an extra headset to wear. Mr. Gowdy, always the most cordial of men, chatted with us between innings, as did the gracious Ned Martin. Ultimately, I witnessed Tony C. hit two rocket launches into the screen that afternoon. At the close of the recap, Mr. Martin turned to me and asked, "So Shaun, who is your favorite Sock player?"
"Tony C., of course," I replied.
"Me too," Martin winked.
In the summer of 1966, as Tony Conigliaro continued to develop into a heralded major league player, I rejoined the Orleans Cardinals in June, as the third summer of my batboy experience commenced. On the team that season were two brothers from Charlestown, New Hampshire, Calvin and Carlton Fisk. Calvin played first base while Pudge served as our catcher. Since I spent so much time with the squad that summer, the Cardinal players were generous enough to let a certain eleven-year-old southpaw have some fun as well during their practices. After tossing the ball back-and-forth to him during warmups, Pudge encouraged me to throw to him off the Cardinal's mound. As I had only tossed baseballs from various Little League diamonds previously, the first time I ever flung a ball from sixty-feet, six-inches was to future Hall of Famer, Carlton Fisk!
Because I was lefthanded, he and his brother, Calvin, eventually began calling me, "Koufax." Once, at the old ballpark in Chatham, they even let me take a few swipes in the batting cage. "Hey look, fellas," shouted Calvin Fisk, "Koufax bats like Tony C.!"
As the 1967 Sprint Training began in Winter Haven, Florida, Tony Conigliaro was a three-year veteran, a first-team All-Star with a boundless future. Still, the team he played on continued to be an unmitigated disaster. "Forever losers," my older brother quipped as another disappointing season concluded with another ninth-place finish. In December, 1966, when the Bosox then replaced manager Mike Higgins with Conig's first Red Sox roommate, the blistering Dick Williams, the Sox' new skipper brashly proclaimed, "We will win more than we lose." The vast majority of fans were rightly skeptical as the '67 season commenced.
Accordingly, only 8,234 fans greeted the Red Sox on Opening Day at the Fens. in the end, the Boston nine were victorious, winning 5-4 behind the starting pitching of Jim Lonborg, the timely hitting of Rico Petrocelli, and the clutch fielding of Tony Conigliaro who made a sensational stab in right field on a ball smoked by Ron Hansen with one out in the ninth.
As usual, I made it home from school in time to see the proceedings. The losing pitcher that afternoon was a journeyman right-hander for the Chicago White Sox, Jack Lamabe, who had played for the Red Sox from 1963–65. Later on that year, "The Old Tomato" would be traded to the St. Louis Cardinals. In August, he would be named the National League Player for the month for his stellar work out of the Cards' bullpen. In the '67 World Series, Lamabe would be the losing pitcher for St. Louis in the sixth game of the Series. Hence, Jack Lamabe would be the losing pitcher for the Red Sox' first and last wins of that historic season.
"Even after I was traded from the Sox in '65, I still closely followed Tony's career," Lamabe told me years later at Jacksonville University, where he served as the head baseball coach for the Dolphins. Nearly ten years after he had last played with Conigliaro, Lamabe's eyes still lit up whenever I brought up his name. "What a hitter," Coach admitted to me when we went out to dinner in 1973. "Tony had that classic stroke. As a pitcher, he always put the fear of God into you. And yet, he was also an exceptional base runner and a great fielder who had a cannon of an arm. When I was on the mound for the Sox, I always knew that Tony would get to that ball in the corner. He willed his way to it. He was the best teammate one could have, supportive, enthusiastic, selfless. He just loved the game."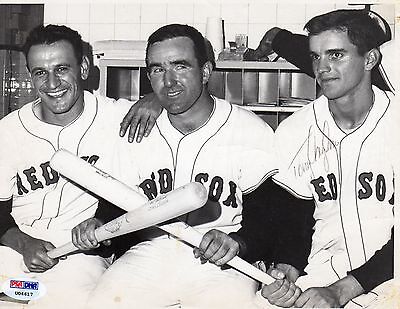 As both Tony C. and the Red Sox began to get off to an encouraging start in 1967, we Boston fans began to enter the Twilight Zone; the perpetual losers were now playing like confident winners. My father, still embittered that his beloved Boston Braves had departed for Milwaukee in 1953, finally commenced to follow the Red Sox on a day-by-day basis because, as he admitted, "They're finally playing a National League style of baseball these days."
Unlike previous years when the eventual pennant winner had usually sprinted to the lead by mid-spring, the American League quickly turned into a veritable quagmire. As the season progressed, no team emerged from a pack whose leader changed virtually every day. While the defending World Champion Baltimore Orioles eventually fell out of contention thanks to an unyielding series of injuries, the dangerous Minnesota Twins emerged as the most balanced squad in the league. Many baseball experts believed that the White Sox had the best pitching staff, while the Tigers possessed the league's most prodigious offense. One last squad lingered near the top of the AL standings that spring like unhurried fog – the one-hundred-to-one-shot Boston Red Sox.
Incredibly, as the Sox kept above .500 and within a handful of games of the lead during the first ten weeks of the season, it was apparent that the franchise had finally begun to discard its longstanding country club reputation. Under the direction of Manager Dick Williams, the Sox had now become a hustling, capable bunch who began to develop the habit of coming from behind in the most unanticipated of ways.
After a particularly satisfying win in late May, I began to look closely at the 1967 schedule that adorned my bedroom wall, next to a picture of my latest Boston sports hero, a crew cut-haired teenager named Robert Gordon Orr. When I discovered that the Sox had a home game against the best team in the league, the feared Minnesota Twins on the last day of the season; I scurried down to my father's study.
"Daddy!" I shouted, "Do you think that Mr. O'Connell can get us tickets to the game on October 1? I have a feeling it might be an important one!" My father and Dick O'Connell, Boston's general manager at the time, were longtime friends who had served in the Naval Reserve together.
"I'll call Dick tomorrow," Dad replied. "He will surely like your optimism, Shaunie!"
Ten days later, I received a bulky envelope in the mail with a Red Sox logo adorning the front. When I tore it open, four tickets tumbled out onto the floor. Inside the envelope, there was an accompanying note.
"Dear Shaun," it read, "I wish all Red Sox fans had your faith. May these tickets bring you great joy.
Sincerely, Dick O'Connell."
Two weeks later, on the evening of June 15th, nearly 17,000 fans turned out at Fenway to see them battle the first-place White Sox. At the time, Boston was in third place, five games behind the Chisox. Earlier that day, I had graduated from sixth grade and was now officially on vacation. Dad wanted to "break out the summer" by having the two of us take in some nighttime baseball at the Fens.
When we sat in our appointed seats in Section 27, we noticed that the crowd was more boisterous than previous games that we had attended in the past. In centerfield, a homemade sign had been draped on the back wall in bright red letters, which read, "The Little Engine That Could!"
For nine innings, we watched from our seats along the third base line as two improbable hurlers, Red Sox rookie pitcher Gary Waslewski and veteran Bruce Howard battled each other to a scoreless duel. Hard-throwing reliever Johnny Wyatt came out of the Boston bullpen in the tenth and shut the Chisox down. Hoyt Wilhelm and John Buzhardt did the same for Chicago. As the two squads walked off the field to conclude the tenth frame, Dad turned to me and beamed, "Now this is a National League kind of game!"
In the top of the eleventh inning, Walt "No Neck" Williams led off the inning with a scorching double into the leftfield corner. After monitoring the flight of the ball, my father quickly surmised, "The White Sox's manager, Eddie Stanky, will have Don Buford bunt. Remember, Eddie once played for the Braves!"
As George Scott and Joe Foy crept in to cover the anticipated tapper, the Chicago batter suddenly left his squared-off position in the batter's box and lashed at a John Wyatt fastball toward right field. First baseman Scott desperately lunged for the ball, caught it on a wicked hop, and beat a stunned Williams to the bag. My father fiercely applauded as he shouted through the din: "Gil Hodges himself could not have gotten to that ball!"
After the second out, however, light-hitting Ken Berry dribbled a single to right with Williams hustling in from third. I slumped into my seat as Tony C. lobbed the ball back to Mike Andrews at second. Dad tapped me on the shoulder and said, "Don't worry, Son, the big boys are coming up for us."
However, when Yaz popped to first baseman Tommy McCraw and George Scott broke his bat on a soft liner to third baseman Dick Kenworthy, all hope seemed lost. "We're staying for the final out," Dad barked as I remained seated, watching Joe Foy tiptoe towards home plate. The Red Sox third baseman took a deep breath, fingered his bat, and promptly grounded a single between short and third.
As Tony Conigliaro slowly ambled up to the plate, I instinctively rose as virtually everyone else did who remained in the ballpark. At the time, the Red Sox right fielder was mired in a profound batting slump after getting off to a prodigious start earlier that spring. It was apparent that Tony C.'s recent, two-week stint at Camp Drum as a member of the Massachusetts National Guard had left him in a hitting stupor. Aware of Conig's recent funk, pitcher Buzhardt promptly threw a pair of unforgiving curves; the kid from East Boston grunted each time as he missed by a foot. An unsettling stillness began to descend over Fenway like an airless shroud.
With the count 0-2, Tony settled into his familiar stance, his bat cocked, his eyes staring out assertively at the White Sox hurler. Buzhardt tossed another curveball, but the sphere seemed to deflate by the time it approached home plate. In less than a second, the streaking ball disappeared into the left field net above the scoreboard as the Red Sox team swirled around Conig who gleefully circled the bases and promptly jumped on home plate.
"Never, ever count this team out!" Dad shouted as we joined in the ecstasy that swelled around us.
A week later, when we packed for another summer on Cape Cod, Dad placed our October 1 tickets "in his special drawer" in his desk in Wellesley. "Let's hope these tickets mean something," he exclaimed to me when he put them into the enclosure.
A few days later on the Cape, it was soon apparent that the 1967 Orleans Cardinals had another talented team after watching their first team practice at Eldredge Park. To the surprise of no one, they battled their arch-rivals, the Chatham Red Sox, for first place throughout the nine-week baseball season. With Carlton Fisk gone from Orleans, the best catcher in the Cape League that season was Thurman Munson of Chatham. He played with a ferocious style that made us all sit up and take notice. I detested his perpetual sneer and rejoiced every time the Cardinals defeated their Cape rivals that year.
As was our custom each summer, we listened to every Red Sox game on the radio – and watched whatever games were televised on Channel 5. Because of the unfolding pennant American League race that year, I can still replay in my mind scores and scores of highlights from nearly every game that magical summer, which found the 100 to 1 Red Sox battling four other teams for the AL pennant in a race that began to resemble a Paragon Park-like roller coaster ride.
In late June, a massive brawl in the Bronx ensued after Jim Lonborg plunked Yankees pitcher Thad Tillotson square in the back in retaliation for Tillotson's beaning of Joe Foy. Injuries to pitchers Dave Morehead and Bill Rohr were offset by the unanticipated emergence of hurlers Jose Santiago and Sparky Lyle. Veteran second baseman Jerry Adair, utility player Norm Siebern, and pitcher Gary Bell were added to the team in significant mid-season trades. Later on, veteran catcher Elston Howard would be picked up on waivers from the Yankees. In time, Ellie's intrepid leadership behind the plate would prove imperative to the young squad for the remainder of the season.
The Red Sox joyride, however, seemed to end with a brutality that galvanized the entire New England region when the California Angels' veteran reliever, Jack Hamilton, hit Tony in the face with a pitched ball on August 18 at Fenway Park, nearly killing him in the process. Eventually, I heard an eye-witness account of the tragedy after I had befriended a longtime usher who had frequented the bleachers since the '40s. The attendant, a portly curmudgeon we always called, "The Whale," gave me the particulars as I watched a game with him from centerfield in July 1969.
"Just as Tony was about to hit, some asshole let off a smoke bomb, which encircled the field in no time," the Whale informed me. "It took about five minutes for that damn smoke to settle. During that time, Hamilton never even warmed up. When the smoke finally cleared, the Angels' pitcher threw a high fastball to Conig. The kid never had a chance. The sickening thing about it was the fact that when the ball struck Tony's cheek, it sounded like a loud clap. I knew he was badly injured, and it sickened me to both see it and hear it."
Fifty years after Conigliaro's catastrophic injury, Carl Yastrzemski recalled watching from the on-deck circle. "We were all afraid for him," Yaz told baseball scribe, Peter Gammons. "It's like he almost lost the ball. He never moved. It hit him flush, and we didn't have the ear flaps then. When Tony went down, I thought it was the end of our chance for the pennant."
Of course, I was absolutely horrified by Conig's horrific injury but was also swept up into the pennant fever that was sweeping like a warm breeze across New England that year. The initial word from the Red Sox was that Tony C. would miss the rest of the season but would be back in fine form in '68. Still, The Boston Herald published a photograph of Conigliaro a few days after he was struck, his left eye socket closed, his face bloated and black. My father, who opened the paper first that morning gasped from the kitchen, "Jesus." He silently handed me the paper.
Despite the calamity, I was more upset for Tony that he couldn't be a part of what had become the Red Sox version of a Magical Mystery Tour. In my mind, Conig would return to the club as good as new in 1968. Ten days after Tony's injury, Dick O'Connell astutely signed Ken "The Hawk" Harrelson from the Kansas City Athletics. Even though Tony Conigliaro's season was over, the Sox had not given up. in retrospect, twenty-eight-year-old Carl Michael Yastrzemski would not let the Boston Red Sox fail.
Throughout the last month of the season, four American League teams played musical chairs with one another; no squad had more than a three-game-lead on the others during this time. In 1967, of course, there could be only one winner and three losers in the last season before playoff baseball began in 1968. Accordingly, in the last weekend of the season, the same four teams that had battled one another all year found themselves within one-half game of one another for the American League crown.
Thus, my farfetched epiphany in May had actually been realized! On Friday, September 29, the Chicago White Sox were swept in a doubleheader by a rejuvenated Kansas City Athletics team, which featured such future superstars Catfish Hunter, Reggie Jackson, and Joe Rudi. The next afternoon, the Sox defeated an injured Jim Kaat and the Minnesota Twins at Fenway. In Detroit, the Tigers held serve against the California Angels and remained half-a-game back with a doubleheader scheduled for the next day at Tiger Stadium.
Sunday, October 1st, 1967.
My father, brother, and I arrived at Fenway Park 90 minutes before game time. As we took our seats, we all began to grin like little children on Christmas morning. Dick O'Connell had indeed been generous – we were sitting in the ninth row of the box seats directly adjacent to the Red Sox batting circle!
Instinctively, I noticed that a large group of youngsters had formed a semi-circle around the backstop. I scuttled down there, pencil and program in hand, and soon saw what the commotion was about. Wearing an NBC blazer and signing autographs for a few lucky kids was none other than the great Sandy Koufax himself. Recently retired, the former Dodgers' ace was serving as the colorman for Curt Gowdy's national broadcast that afternoon. Just as I arrived at the back of the circle, the future Hall of Fame hurler looked up and bellowed to us, "Sorry, boys, but I've gotta go. I need to conduct an interview."
"But Sandy!" I called out in panic. "I read your book with Ed Linn!"
"Who said that?" Koufax shouted out to the group.
"I did," I retorted.
"Well, Kid, then I'll sign for you."
As Koufax rolled my program through the backstop screen, I checked to make sure that he had signed it. In a steady hand, he had scrawled his name, "Sandy Koufax," with the pencil I had given him on the back of the scorecard. The former Dodger lefty slowly walked out to a spot near the batting circle, a microphone in his hand.
It was evident that Koufax was about to tape an interview. The entire group of boys around the batting cage soon noticed his appointed subject who slowly made his way from the Red Sox dugout. We all exploded as we recognized him. "Tony! Tony!" How are you, Tony?" we all shouted.
"Hi, boys," Conig turned to us. "We're gonna win this one today. Right?"
"Right you are, Tony!" we replied in unison.
Tony gave us a little wave and then began a short interview with Sandy Koufax as the autumn sun began to drip in splotches over the infield.
Three hours later, as I gripped the program with Sandy Koufax's autograph on the back cover, my father and I instinctively hugged one another as shortstop Rico Petrocelli enclosed a dying quail from Rich Rollins to end the game. Our Red Sox had won a most improbable pennant! Instantaneously, every Red Sox player rushed out onto the green diamond to smother pitcher Jim Lonborg. Only one player remained behind, Tony Conigliaro, who reportedly had tears in his eyes, watching in silence as his teammates made their way out to join the emerging pandemonium that was forming around the pitcher's mound.
Four months later, as the 1968 Spring Training season approached, reports began to surface from Winter Haven, Florida that Tony C. was experiencing enormous difficulty picking up the ball. We soon learned that a hole had formed in his retina; the word out on the street was that Conig was partially blind in his left eye. He stayed behind in Florida as the team headed north. When I eventually read in The Globe that he was attempting to make the team as a pitcher, a pit began to form in my stomach.
When I told him the news, my father sighed, "Oh, Tony, poor Tony."
Later that spring, as I began my first season playing in the Babe Ruth League in Wellesley, my father attended an important Saturday afternoon contest at Hunnewell Field. I ended up tossing a complete game, a seven-inning shutout. Nevertheless, Dad still looked concerned as he put his arm around me at the end of the contest. "Why did you seem to flinch every time you batted? You were always so aggressive at the plate."
I gulped and looked at Dad for a long time. "I guess because of Tony. I'm kind of scared of the ball right now, Dad," I admitted. There must have been several thousand boys like me from New England who recoiled in the batter's box that spring, the memory of Tony Conigliaro's shattered face etched permanently in our minds.
By the middle of the summer of '68, Conig's future in baseball seemed uncertain at best. We heard that he was undergoing a series of treatments to improve his eyesight after his pitching experiment had failed. Conigliaro, and, by extension, his many fans, were learning that life might just be a long preparation for something that never quite happens the way you thought it would. "Perhaps Tony is the outfielder's version of Indians' pitcher Herb Score," my father stated to me one August afternoon that summer. "The promise of brilliance gone in an instant. I learned in war that life is inherently unfair," sighed Dad, a survivor of three major invasions including Iwo Jima.
I took Dad's words in and stirred them around for a while – and ended up saying nothing in return.
Spring Training 1969. Tony Conigliaro announced that he was attempting another comeback, this time as an outfielder. The word out of Winter Haven was that Tony's eyesight had "slowly returned." By late March, Manager Dick Williams announced that Conig would be returning to rightfield. Making the Red Sox that spring as well was Conigliaro's younger brother, Billy. I waited impatiently for the Opening Day of the season to commence – a day affair in Baltimore.
To her everlasting credit, Mom let me come home early from school. A lifelong baseball fan herself, she knew how much this particular game meant to me. My heart was in my throat as Tony was introduced as the starting right fielder during the pre-game warm-ups. As he approached home plate for the first time in nearly a year-and-a-half in the big leagues, Conig received a tumultuous ovation from thousands of Oriole fans. In the tenth inning of that first game, Conigliaro came up to the plate for the fifth time in the contest.
On a 1-1 pitch, he launched a towering homer to left off of Baltimore reliever, Dave Leonard. The Red Sock slugger sailed around the bases and was mugged in the dugout by his teammates. Manager Dick Williams even gave him a peck on the cheek. Ned Martin said later that he almost felt like crying as he watched Tony sprint around the base paths.
The Great Conigliaro was back.
Still, it was evident that Tony was struggling at times to pick up the ball. Little did we know that Tony's vision hadn't healed completely – there was still a blind spot in his left eye – a perilous situation for someone who tried to make a living as a baseball slugger. During the first few games that were played at the Fens that year, the Red Sox administration began to comprehend that their young right fielder could barely pick up the ball coming out of the pitcher's hand – especially with so many Red Sox fans wearing light tee-shirts in the background. Of course, Tony's left eye hadn't really healed. He was just tilting his head more directly toward the pitcher's mound in order to pick the ball.
Back then, the center-field seats behind the television camera were open to the public – $1.25 a ticket. In May, the Red Sox announced that from then on, patrons would be expected to wear black or Navy blue attire in that part of the bleachers. For agreeing to such a proposal, each participant would receive an engraved card, stating that he or she was a member in good standing of "Conig's Corner."
I soon became a regular member, sitting out in center field at least 40 times in both 1969 and 1970. Manning that unique section both years was the legendary usher, "The Whale," who made sure that Tony C. had the proper backdrop as he approached home plate to bat.
Scores of New Englanders, resourceful if not inventive, began to tote two shirts with them to the game if they planned on sitting in "Conig's Corner." When the Red Sox came out to bat, a large flock of customers would adorn their dark-blue shirts or sweaters, depending on the weather. However, when the opposing team came to bat, many of us whipped out white tee-shirts and put them on over our dark ones, hoping that it would somehow help the then run-of-the-mill Sox pitching staff.
Tony was always gracious to us in "Conig's Corner," waving to us regularly as he took his familiar spot in right field. A young woman, who proudly wore a Red Sox jersey adorned with the number 25, habitually began to serenade Tony C. as he made his way to the outfield. She used the melody from the famed fan club song from Bye Bye Birdie and inserted Conigliaro's name instead: "We lo-ov-ve you, Tony….oh yes, we doo-ooo-ooo…."
Once after Conig jacked a gargantuan home run to left, he sprinted out to his regular spot in right field, turned around to face us, and made an elegant bow with a twist of his arm.
We loved him for that.
For two years, Tony Conigliaro continued to defy science, hitting a career-high 36 home runs in 1970. Our little world was therefore jarred beyond measure when the Red Sox announced on October 11, 1970 that they had traded Tony C. to the California Angels for – among others – Jarvis and Ken Tatum.
"We just cornered the market on Tatums," my despondent father muttered as he threw down The Globe the day after the trade was announced. I could barely talk as I walked to school that morning. My hero was now an Angel. "Conig's Corner" was soon quietly disbanded.
The following summer, Tony Conigliaro and the California Angels came to town to play the Red Sox. With a mixture of loyalty, reverence, and sadness, I lined up to purchase one bleacher ticket two hours before game time. As I made my way toward the old "Conig's Corner," I noticed "The Whale" checking people's clothing. He was making damn sure that Tony still had the right background to hit from – even though he was now wearing an enemy uniform.
While patrons in the old "Conig's Corner" had been wearing white while the Angels were batting, they quickly changed to black or Navy blue as Tony approached home plate for the first time as an opposing player. Ultimately, he received a frenzied, two-minute standing ovation from the Fenway faithful.
A few minutes later, when Conig sprinted out to his familiar spot in right field for the first time that afternoon, we rose as one and began calling out to him. He turned around and blew us a kiss. Eventually, the crowd quieted down, and the game commenced.
Slowly, sadly, a familiar refrain could be heard coming from his old corner: "We lo-ov-ove you, Tony, oh yes we doo-ooo-ooo."
Even "The Whale" brushed away a few tears.
Conig turned around and waved to us all. "We will ALWAYS love you, Tony!" a leather-lung called out. A lump in his throat, Conigliaro nodded and waved to us once again.
At the end of that season, he retired from baseball, saying that his eyesight had deteriorated. The word on the street, however, was that he was lonely out in California. He needed us as much as we needed him.
Two years after Tony C. retired from the Angels, I enrolled at Jacksonville University and secured a spot as a pitcher on the varsity baseball team. When I met former Red Sox pitcher Jack Lamabe for the first time, I impulsively barked, "Coach, you pitched a hell of a game for the Sox on Opening Day back in '64!"
He looked stunned. "Shaun, I haven't heard anyone tell me that in a long, long time."
Throughout the next four years, I would spend hundreds of hours with the former Red Sox hurler. Because of his palpable baseball connections, Coach Jack Lamabe would eventually bring in several baseball luminaries to talk to us including Robin Roberts, Ted Simmons, and most memorably, Theodore Samuel "Ted" Williams.
When the Splendid Splinter showed up during a practice session one year, he informed me that I was erroneously throwing my slider. After repairing the flaw, Teddy Ballgame looked me in the eyes and roared, "Now, Son, when you go back to Boston, I want you to tell your friends that Ted Fucking Williams taught you how to throw a fucking slider!"
I couldn't wait to get to the telephone to tell my dad the story.
In the winter of 1975, I sprinted into Coach Jack Lamabe's office one morning after I heard on the radio the astonishing news that Tony Conigliaro was attempting another comeback with the Red Sox after a nearly four-year absence from professional baseball. Lamabe's eyes blinked a few times as Conig's former teammate took in the fact that number 25 was going to give it another shot.
"Oh, I hope Tony can make it," Coach Lamabe sighed. "He deserves all the success in the world."
I cheered Tony from afar that spring as it was announced that he had beaten out the talented rookie, Jim Rice, as the team's designated hitter. My heart nearly burst when I heard the accounts of the spirited reception Tony C. received at Fenway on Opening Day 1975 from my emotional father on the phone. I barged into Coach Lamabe's office to tell him the news. "Conig's Corner is back in business!" I bellowed.
"The Old Tomato's" tobacco-lined smile spoke worlds.
A few days later, Tony and the Red Sox played a day game in Baltimore. In his second at-bat that afternoon, Conig launched his first home run in the big leagues in four years.
In mid-May, I returned home to Wellesley from Jacksonville determined to see Tony C. hit once again at the Fens. The old centerfield section where Conig's Corner had once held forth was now permanently closed by the Red Sox in hopes that a dark green background would provide a safe backdrop for both teams. Still, I wore a black jersey the first game back in the bleachers upon my return to the old ballpark. I then glanced up-and-down the centerfield stands and realized that a gaggle of "Conig's Corner" veterans were all there, still rooting with fervor for the kid from Eastie.
As the game began, I adjusted my transistor radio to my ear, listening to the affirming voices of Ned Martin and his new radio partner, Jim "The Possum" Woods. As my ear was pressed against my tiny transistor in the bleachers, it seemed surreal when Tony Conigliaro sauntered up to home plate at Fenway that warm May night. Within seconds, Conig immediately crouched in his distinctive stance, waiting for the pitch, his bat held upright.
The luminous left-handed flame-thrower, Vida Blue, was pitching for the Athletics that night when Tony connected on a monstrous home run that went over the screen and landed onto Lansdowne Street. I can report here that the last home run of Conigliaro's career – the 166th of his career – paralleled his first. My "Conig's Corner" friends high-fived each other as number 25 took his seat on the bench.
A few days later, Tony Conigliaro was sent down to Pawtucket, never to return to the Big Leagues. The youngest player to reach one-hundred career home runs in baseball history had just cashed in his chips.
He was just 30 years old.
Even though he was no longer playing organized ball, I still cheered for Tony Conigliaro as he began his new career as a sportscaster – first in Providence – and then out in San Francisco. By 1982, I was teaching at TASIS England, an American School situated eighteen miles west of London and was visiting my folks in Wellesley for Christmas, when I read in The Globe that Hawk Harrelson, the Red Sox TV commentator at the time, had just signed on with the White Sox as their lead telecaster. Incredibly, Tony C. was flying back to Boston for an audition with Channel 38.
"Ned Martin and Tony Conigliaro together again," the article said. Mercy.
However, the day before I was to leave for the UK, we learned that Tony had suffered a catastrophic heart attack on the way to Logan Airport. Ironically, his tryout as the second Red Sox announcer had so impressed the WSBK officials that he had unofficially been offered the job on the spot. His brother, Billy, had heroically saved Tony's life by reconnoitering his car in the tunnel the wrong way to get Conig to Mass General as quickly as possible.
It was a long flight for me back to England that evening.
Ultimately, it would take seven years for Anthony Richard Conigliaro's heart to stop beating. His parents, and his younger brothers, Billy and Ritchie, were continually at Tony's side during his extended convalescence. The massive stroke that he had suffered as a result of his heart attack had left him a shell of a man.
Fifteen years after Conig's death, I conversed with famed sports journalist Mike Lupica, who visited Tony up in the North Shore and wrote a memorable piece on Conigliaro in Esquire. "What I most remember about the visit was Tony's violent coughing," Lupica told me. "It shook me to the core. You just wanted it to stop. It broke your heart to see him in that condition. After he died, I remembered thinking, 'At least he doesn't have to cough anymore.'"
On February 24th, 1990, Tony Conigliaro died from the ravages of a stroke and a subsequent heart attack. He was 45-years old. By that time, I had moved on to Greenwich, Connecticut, where I began teaching at a local independent school. After I heard that Tony had drawn his last breath, I put on my old "Conig's Corner" shirt, drove to the local high school baseball field that was then shrouded in a nighttime snow squall, and cried my eyes out on the pitcher's mound.
A decade later, when it was revealed that Tony Conigliaro had fathered a child out of wedlock and that his daughter was now an elegant young woman, I stared in wonder at the copy of The Boston Herald that had published her picture. She had her father's eyes. Tony's legacy had been passed on.
In May 2001, I had the privilege of chatting with both Jim Kaat and Bobby Murcer in their cramped MSG broadcasting booth at Yankee Stadium. As we all began to reminisce, I took out a 1966 Topps Baseball Card of Conigliaro that I had kept in my wallet for more than 30 years. "Ah, Tony," said Kaat as he fingered the card delicately. "He would have hit 500 home runs. He always put the fear of God in me when he came up to the plate. I tried to pitch him low and away. When I made a mistake to him – watch out."
Bobby Murcer glanced down at my card as well and held it reverently in his right hand. "What a talent," he sighed. " As a player, I always looked up to Tony. And what courage."
Later that evening, when the Yankee's venerable public address announcer, Bob Sheppard, asked me who my favorite Red Sox player was in 40 years of following the team, I proudly informed him.
"A fine, fine choice," Mr. Sheppard replied.
In March 2003, I was interviewed by Black Canyon Productions for an HBO original movie that eventually became the Emmy-award winning documentary, The Curse of the Bambino. Throughout the two-hour exchange, I touched on a number of subjects pertinent to the film, from Luis Aparicio's stumble around third in 1972 to Rich Gedman's passed ball in Game 6 of the 1986 World Series. As the interview concluded, I admitted to producer John Stone, "There is a lot of pathos involved with the franchise, for sure, John. But can I share with you my thoughts about one special player? Can I tell you about Tony Conigliaro?"
When I finally attended the premiere of the HBO film in Boston that fall, the only time that a well of emotion swept over me occurred early on in the documentary when director George Roy showed a young Tony Conigliaro, effervescent and impenetrable, signing an autograph for a young fan. I brushed away a few tears in the darkened movie theater.
That August, I took my youngest son, Max, to Fenway Park for the first time in his young life. After we settled into our seats, I pointed out to the green expanse and whispered, "Son, a giant once played out there in right field."
When I peeked up at the retired numbers near the Jimmy Fund sign, I was not at all upset when I failed to see the number 25 hanging up next to all the other honored numbers. I had retired Tony C's number in my mind years before.
Hours later, when my youngest son and I walked back to take the Riverside subway line back home, Max, a nine-year-old at the time, asked, "Dad, was Tony C. your all-time favorite Red Sox player?"
"Yes, Max," I replied. "No other player quite captured my heart as much as Conig did." As we climbed aboard the trolley, I thought a lot about fathers, sons, and baseball heroes as we headed to the Woodland T Stop.
The ensuing week, I read John R. Tunis's baseball novel, The Kid from Tomkinsville to Max in the same bedroom in my grandfather's Cape house where I had first read it when Tony Conigliaro was a rookie. When I completed the narrative, Max asked if we could go outside for a catch. I realized right there that my life had come full circle.
Little did Max and I know at the time that the Red Sox would, throughout the next 15 seasons, not only secure the franchise's first World Series Championship in 86 years but then garner three more world titles in the process. While Tony Conigliaro's name would occasionally be bandied about by Bosox fans in the bleachers or on sports talk shows during this time, an entirely new generation of fans began singing the praises of the likes of Pedro, Big Papi, Manny, Petey, Jon, Koji San, Mookie, J. D., Bennie, Jackie, and a wellspring of others.
However, when the greatest living Red Sock, Carl Yastrzemski, was asked in 2017 who was the best player who played with him during his storied 23-year-career, Yaz said without hesitation, "Tony Conigliaro." When "Number 8" was then queried whether Conig would have been enshrined in Cooperstown, Yastrzemski replied, "Without a doubt. He was an extremely talented hitter, and in '67, Tony became a great defensive player. There's no doubt that if he didn't get hit in the eye, he could have been in the Hall of Fame."
If you live long enough, wisdom does come to you through the grace of experience, sorrow, and divinity. When I listened to Tony Conigliaro's first spring training contest as a major leaguer in March 1964, I was a youngster who had not even lived a decade. As I write this now, I am on the cusp of an infiltrating age that will eventually reduce to me to dust. When I think back to that moment when I was nine, I recognize that the optimism I felt then on the shores of my youth – where time hadn't yet chipped away my faith – resulted in me uncovering a living, breathing embodiment of life's transcendence in the personage of nineteen-year-old Tony Conigliaro. It was as if the most inconsequential trickle of water ended up filling a mighty reservoir. Despite all that has happened since 1964, my reverence for Tony Conigliaro has never wavered.
Of course, for four decades after that 1964 spring training game, I wanted nothing more in life than to experience at least one Red Sock championship season before I died. Now, in my 56th year of following the team, I just celebrated my team's fourth such title this past October, when the Boston Red Sox enjoyed their most hallowed season in the 117-year history of the franchise. Each time the Sox have won it all, I have felt like a nine-year-old boy once more.
Still, I do know that my middle school students now view me as being older than God. As the years slip by like shuffling cards, the past to me is now nothing more than a series of images that encapsulate millions of snapshots of life. In the final analysis, the people who supported, nurtured, and loved me are the ones who have made all those frames so meaningful. As always, love matters – and nothing else really counts.
And so, if I could vibrantly relive something in my life right before the moment of my own death, I would venture back to the magical summer of 1967 – right before the smoke bomb and the pitch that divided Tony Conigliaro's life into a "before and after." I would be 12 once more, sitting next to my father in Section 15, Row 5, Seat 10 at Fenway Park. I would be smiling broadly watching Dad, alive again, keeping score as he always did at every ballgame.
"Who's coming up to bat, Dad?" I ask.
"Your favorite, Shaunie. Tony C.!"
I immediately glance up at the scoreboard in left; it's the bottom of the first inning, and a young Tony Conigliaro is beginning to swing a few weighted bats in the on-deck circle near where Daddy and I are sitting.
Seconds later, as Conig approaches home plate – healthy, brisk, and eager – public address announcer, Sherm Feller, bleats out, "Now batting fourth, number 25, Tony Conigliaro, right field, Conigliaro." The Fenway crowd begins to clap around us rhythmically, and my father and I reflexively join in the refrain as well.
Tony then settles into his familiar stance, his bat cocked, his coffee eyes staring assertively out at the pitcher. Within seconds, a fastball is tossed at the catcher's padded glove. As soon as the pitch is delivered, Conig's vigorous eyes become wide ovals as the ball whistles towards the strike zone. He swings with the panache of a bullfighter. His tan bat strikes the red numbers on his back as he completes his savage stroke.
In less than a second, Dad and I quickly rise from our blue seats as the white ball make its way over the left field wall towards Lansdowne Street.
In the last moment of my life, all would be finally right with the world.
For the late Nick Cafardo of The Boston Globe – who loved my original piece on Tony and encouraged me to update it. Gracefulness and passion guided him always. I have a strong hunch that Nick would have loved my Dad.