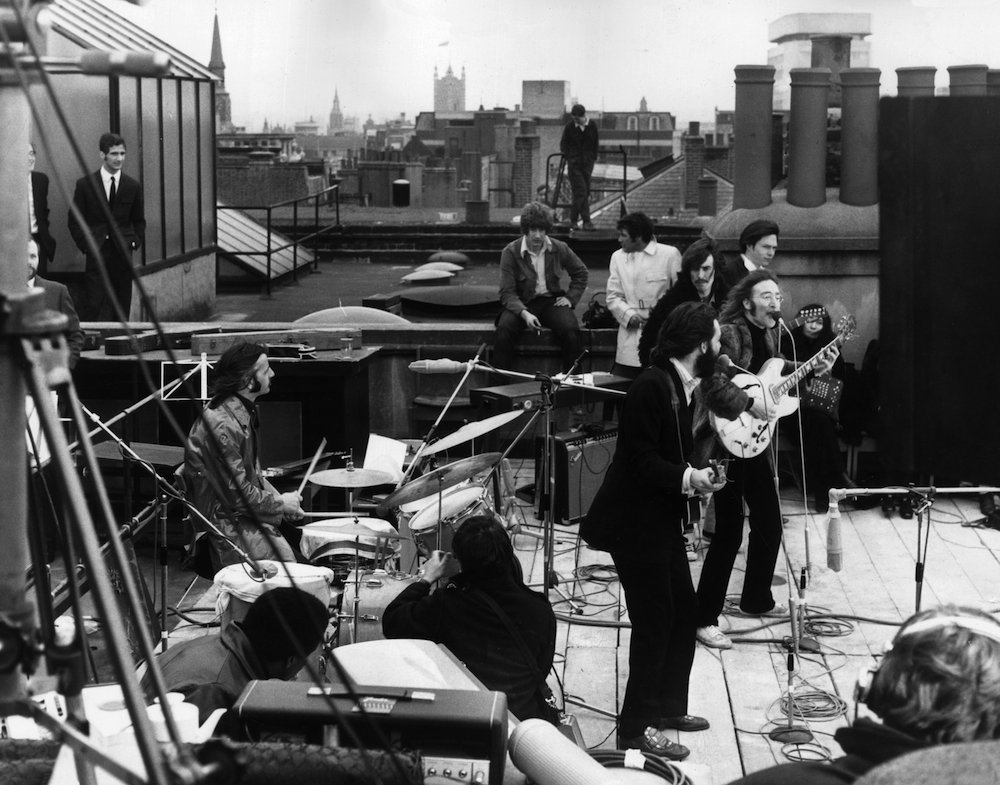 On January 30, 1969, the Beatles took the concept of "Up on the Roof" to an entirely new level.
"Good Old Rock and Roll," Cat Mother and the All Night Newsboys, 1969. In the summer of Woodstock, a group called Cat Mother and the All Night Newsboys engineered an unforgettable medley to the 1950s era of early rock that became one of the more endearing songs of that memorable summer. "Good Old Rock 'n' Roll" included cover versions of "Sweet Little Sixteen" by Chuck Berry, "Long Tall Sally" by Little Richard, "Chantilly Lace" by The Big Bopper, "Whole Lotta Shakin' Goin' On" by Jerry Lee Lewis, "Blue Suede Shoes" by Carl Perkins and "Party Doll" by Buddy Knox. Jimi Hendrix, who produced this song and their initial album on his new Wonderland Studio, asked them to open for him during his summer of 69 concert tour. One of the guitarists for the group, Jay Unger, would later become an acclaimed fiddle player for his own string band and the composer of "Ashokan Farewell," the haunting ballad for Ken Burns Civil War Series on PBS.

"Love Shack," The B-52s, 1989. Imagine being a visiting observer at The Greenwich Country Day School in 2003 and you enter a classroom where the head teacher is in a conga line dancing to the B-52's "Love Shack," with his Honors English class of 15 is trailing after him. Imagine being that teacher? Don't fear; I came up with some convincing explanation right on the spot – with the kids entirely backing me up. John Lennon always claimed that the B-52's were the Plastic Ono Band's offspring.

"Delta Lady," Joe Cocker, 1969. 'Delta Lady' was written by Joe's future touring partner, Leon Russell, who once said it was a sonnet to his love at the time, Rita Coolidge. Thankfully, Russell gave it to Cocker, and the ballad eventually took flight on the legendary Mad Dogs and Englishmen Tour. In the end, ol' Leon joined a raucous rock-and-soul consortium, which also included several future members of Derek and the Dominoes. By the time they were done with this tune, it had become a searing cry for love — and one of Joe's more memorable live TV performances. After all, who else but Joe Cocker could wear pink bell bottoms that are too short & still be utterly hip? Damn.

"Ain't No Stoppin' Us Now," McFadden and Whitehead, 1979. A classic disco summer song, which dominated the airwaves 40 years ago this July, this Philly Sound single was the only hit for two veterans of the music industry. Gene McFadden and John Whitehead were songwriters and producers at Philadelphia International Records, where they worked on many of the tracks that helped define the Philadelphia Soul sound. By the late '70s, McFadden and Whitehead were pining to record their own material, and convinced their record company to let them try. Exhilarated by the opportunity, they thought, "Ain't no stopping us now!" and wrote this motivational song on a lark. The song went to #1 on the R&B charts and also found a home on Top-40 radio. Given its unfailing message, "Ain't No Stopping Us Now" has aged very well over the years.

"Watching and Waiting," The Moody Blues, 1969. Written out of the same pocket of dreams as "Nights in White Satin," this nostalgic and yet haunting tune is one of the most revered ballads in that larger-than-expected network known as MoodyHeads. The concluding song from their highly underrated disc, To Our Children's Children's Children, an album devoted entirely to the approaching moon landing that summer, here a pensive Justin Hayward ponders the meaning of life given our newfound status as space travellers. Given how spiritual many of their songs were, you could make a case that "Watching and Waiting" is on top of the pile under the classification of "heartfelt and transcendent." As usual, Hayward is radiant on every note here, both as the song's lead guitarist and vocalist. And when he speculates on landing on an alien planet, well, his extraterrestrial plunge into speculation is inspired: 'Cause here – there's a lot of room for doing/The things you've always been denied/So look – and gather all you want to/There's no one here to stop you – trying."
"Chelsea Morning," Joni Mitchell, 1969. The irrepressible, translucent guitar accompaniment coupled with Joni's then lilting, mostly cigarette-free lyrical voice brings a sun-splotched morning in Chelsea, her New York neighborhood to life in this masterwork, which was released 50 years ago this summer. "Chelsea Morning," of course, describes a series of seamless moments caught unawares, a snapshot of Mitchell's ability to freeze time and paint with sound. Joni Mitchell, a now celebrated abstract painter, perfectly combines two of her artistic skills here and creates a still life set to sound. Fifty years ago, you would often hear this tune in shops, cafes, and on sidewalk stoops through the din of humming traffic.

"Have I Told You Lately That I Love You?" Van Morrison, 1989. Recorded 30 years ago this July, this is one of those timeless numbers, which will be played long, long after all of us are gone. While a slew of artists, including Rod Stewart have recorded this classic over the years, the fidelity and passion of Van's original recording keep any other rendition at bay, After listening to this exquisite musical sonnet, I am reminded that being deeply loved by someone gives you strength, while loving someone genuinely gives you courage. Thank you for this treasure, Van.

"Bad Moon Rising, Creedence Clearwater Revival, 1969. According to John Fogerty, the singer-guitarist-songwriter composed this rock anthem immediately after viewing the Inauguration of President Richard M. Nixon on January 20, 1969. "I had a really bad feeling as I turned off my TV, and I ended up writing 'Rising' in about 20 minutes. 'There's a bad moon on the rise' proved sadly to be true," said Fogerty to journalist Dave Marsh years later.. This superb version was recorded live on the Johnny Cash Show on July 10, 1969, just as the rock anthem hit number one on the Billboard charts. Tom Petty astutely commented on his Sirius radio show a few years ago that you could hear the influence of Elvis's guitarist Scotty Moore, on Fogerty as he played through on the solo. After viewing the clip, I came away thinking once again that Doug Gifford was one of the cooler drummers who played back in that era.

"I Only Have Eyes for You," The Flamingos, 1959. While there had been scores of soloists and bands who have made their own versions of the fabled 1930's ballad by composer Harry Warren and lyricist Al Dubin, it was the Flamingos, a prominent doo-wop group from Chicago, which made it into a classic 25 years after it was first written. With the Flamingos' unheralded tenor, the late Nate Nelson, singing the lead, and the supporting vocals of the other four members of the group, most especially the repeated refrain of the "shibushibu, "all combine to frame the unique sound of the Flamingos cover. The number one song in the US and Canada 60 years ago this July, "I Only Have Eyes for You" was ultimately inducted into the Rock and Roll Hall of Fame as a single thirty years after that it was released.

"This Land is Your Land," Los Lobos with Jerry Garcia and Bob Weir, 1989. This rambling version of the iconic Woody Guthrie song was performed July 22, 1989 backstage at the Alpine Valley Music Theater in East Troy, Wisconsin between sets on that summer's Los Lobos/Grateful Dead tour. One of my favorite versions of this classic Americana song. Happy 4th, everyone!

"Bad Girls," Donna Summer, 1979. People sometimes forget how truly hot Donna Summer was 40 years ago this summer when she racked up 4 number one songs in twenty weeks, but her music has had a deserved revival recently. Friends of mine used to point out that there were usually hidden treasures in her lyrics that belied the pulsating and hypnotic rhythm sections that drove each of her songs. My dear friend, Jim Simpson, who was a larger-than-life figure in Boston's gay community at the time, loved the lyric from "Bad Girls" that Donna sang so reverently, "If you had your life to live over – would you change it?" What a time that was.

"Come and Sing a Simple Song of Freedom," Tim Hardin, 1969. At the very end of the 1960s, "Simple Song of Freedom," a neglected but irresistible protest song, became a minor hit in the last summer of the decade. In every way, it was spirited, coy, and persuasive – a foot-tapper with a message. (It's funny how music works. Bobby Darin, of all people, wrote this peace anthem, and Tim Hardin had a hit with it. Three years previously, Tim composed, "If I Were a Carpenter," and Bobby Darin had a hit with that incandescent tune). A half a century later, "Come and Sing a Simple Song of Freedom" still resonates, especially with its opening stanza: "Come and sing a simple song of freedom/ Sing it like you've never sung before/ Let it fill the air/ Tell the people everywhere /That we, the people here don't want war." Amen.

"All I've Got to Do," The Beatles, 1963. on the afternoon of September 11, 1963 at Abbey Road Studio Number 2, "All I Got to Do" was a song that John Lennon had composed back in the summer of 1961, which the boys had then performed live hundreds of times to audiences both at the Cavern Club in Liverpool and at scores of venues across Great Britain – from Plymouth to Leeds to Newcastle. "Because we could play the ballad in our sleep, it actually took about 15 takes for us to get the right sound. We were really tweaking it that day in the studio," recalled John years later. After extensive experimentation with time and chord changes throughout the three-hour session, the band, according to commentator Ian MacDonald "…was very pleased when they heard the final product – with its downbeat atmosphere, and the hurt, halting mood of its nervy, rhythmic interplay of damped guitar chords and hi-hat strokes." Unlike the other two relatively dated, forgettable songs that the Beatles recorded that afternoon in London – "Little Child," and "I Wanna Be Your Man," – "All I've Got to Do" is a lingering plea to an unidentified woman – most probably Lennon's first wife, Cynthia. In the end, it is a 3:00 am kind of song in which regrets can be as personal as fingerprints. "I had a Smokey Robinson fetish at the time; I idolized him – still do," the composer admitted a few weeks before his death. Ultimately, "All I've Got to Do" was John Lennon's attempt to write and record the kind of susceptible, beseeching ballad that Smokey would have written and performed for and with his group, the Miracles, back then. Of course, most listeners had no idea about that at the time. All they knew was that John Lennon seemed to bare his brittle soul for the entire world to hear. I have always felt that "All I've Got to Do" could well have been included on Rubber Soul. It was that good.
"Polk Salad Annie," Tony Joe White, 1969. This white swamp classic, written, performed, and produced by the late Tony Joe White, was one of the more notable singles during the summer of 1969. Recorded at RCA Victor Studios in Nashville, "Polk Salad Annie" was produced by Billy Swan, who had a #1 hit as a solo artist in 1974 with "I Can Help." When he came to England to perform it on the BBC that fall, one of the Beeb's producers remarked to Tony Joe, "Man, I thought you were black." White, who was actually a 26-year-old Southern Caucasian part-time truck driver at the time, took that as the ultimate compliment.

"I Drove All Night," Cyndi Lauper, 1989. Cyndi's version, released 30 years ago this week, left Celine Dion's more popular version in the dusk, mostly because of her eclectic mix of diverse sound and style, idiosyncratic lyrics, and, of course, her characteristic joie de vivre. Cyndi originally wrote the song back in 1988 for Roy Orbison, who loved it and planned to record it, until his sudden death in December. Lauper's manager then sold the song to Celine Dion, who subsequently had a number one single with it. Lauper's version, while a demo, (and released in 1989), still rings true all these years later.

"Evil Ways," Santana, 1969. This classic rock turned out to be Santana's first international hit, a classic that was carved into stone like a commandment in the minds of anyone under 30 back then as a result of his memorable live performance of it at Woodstock. In reality, Santana's "Evil Ways," was actually a cover that was originally written and recorded by percussionist Willie Bobo in 1967. For two years, it had been a relatively obscure number in jazz circles before Santana transformed it into a monster hit complete with room-shaking organ and ninety-second guitar solos. Gregg Rolie, who would form the band, Journey, four years later, provided the vocal lead on Carlos's version. He would later sing the lead on such ballads as "Don't Stop Believin'," and "Faithfully."

"Chuck E's in Love," Rickie Lee Jones, 1979. This irresistible tune, from Rickie Lee Jones, turned out to be a massive hit from one of the most auspicious debut albums in rock history, which was released 40 years ago this summer. According to singer-songwriter, Rickie Lee and her then lover and fellow musician, Tom Waits, spent a lot of time hanging out with their friend Chuck E. Weiss at the rundown Tropicana Motel in LA. Eventually Weiss, affectionately referred to as "Chuck E.," vanished – and the couple became concerned A few weeks later, Weiss phoned Waits and explained that he was now situated in Denver and that he had moved there because he had fallen in love with a cousin in Colorado. When Waits hung up, he bellowed out to Jones: "Chuck E.'s in love." Rickie Lee liked the sound of the sentence and immediately composed a song around it. Four decades later, she still ends most of her concerts by playing "Chuck E.'s in Love." A toss-off line became a lifeline to sustained success.

"Like, I Love You" Edd Byrnes and Connie Stevens, 1959. On so many levels, this cultural fossil seems almost like a parody of a hip 1950s song. Of course, that's what it was supposed to be when it was released in June 1959. When I played it to my students one time in class, they thought that it was some kind of an unearthly outtake from Grease. Needless to say, Ed "Kookie" Byrnes was the epitome of swagger on 77 Sunset Strip while Connie Stevens was the flavor of the month for many American male teenagers at the time. If you have never listened to this minor hit, which was a Top 40 hit 60 years ago this summer, you are in for an experience. The "cool, baby" vernacular is worth the ride, so strap in tight.

"Thank You (Falettinme Be Mice Elf Agin), Sly and the Family Stone, 1969. Funk on top of funk with inch-thick icing. That's Sly Stone in a nutshell, and that's why this tune is still regularly played on the radio 50 years to the day, June 16, after it was first released. In this live not-to-be-believed Soul Train version, you can see and hear why both fans and musicians revered Sly and his decidedly integrated band at the time. (Thank you, Don Cornelius, for keeping the masters of such recordings in a bank vault for more than three decades until he dumped them on YouTube.) You can also see why this unique band so galvanized Prince as a boy growing up in Minneapolis. This is both a vocal and visual tour de force.
"Dream Lover," Bobby Darin, 1959. The number two song in the US and Canada 60 years ago this June, Bobby Darin's "Dream Lover" would remain in the Billboard Top 20 until early August. This was the second-to-last "teen single" that Bobby would have – "Splish Splash" would be the last – before he ventured into adult waters with such classic numbers as "Behind the Sea" and "Mack the Knife." As versatile and talented a performer as any who came out of the early rock era, Darin's genius was that he couldn't be framed into one particular genre. He could do it all.
"Sacrifice," Elton John, 1969. Not many American fans would know that "Sacrifice" was Sir Elton's first number one single in the UK a year before he struck gold in the US with "Your Song." Interestingly, Elton and Bernie Taupin have long described this number as the bookend to it. Taupin, who has also called it, "the best tune we ever wrote together," a ballad that described a breakup of marriage where the loss of the relationship was "no sacrifice." The video of "Sacrifice" was filmed 20 years after the song was first released, and featured both Yasmeen Ghauri and Chris Isaak.
"There Goes My Baby," The Drifters, 1959. One of the incongruent and yet most breathtaking productions in rock and roll history, this number was a profound soul milestone, although it was more urbane and filled with Latin inflections and off-tune tympani than the standard fare back then. This caused Atlantic's Jerry Wexler to threaten to throw the master single out the window and onto Broadway itself, because he didn't like the unsyncopated sound. Thank God he didn't. There's no denying the dizzying romantic swell of the Drifters' orchestration, which drove Wexler crazy, might be a distraction – but a lovely one. Of course, such over-the-top instrumental orchestration would then guide singer Ben E. King through his solo career when he left the Drifters later on that year.
"Grazing in the Grass," The Friends of Distinction, 1969. The number two song in the US top 40 fifty years ago this June, the Friends of Distinction's version of Hugh Masekela's instrumental classic added inspired words, including the irresistible refrain, "The sun beaming down between the leaves." Has any single so brilliantly captured the end of spring and the beginning of summer like this one? As some of you might know, the Friends of Distinction were discovered by pro football immortal, Jimmy Brown, when they were playing at a local nightclub in LA. He connected them to some friends in the music business, and the band signed a record contract as a result. While the group had two other notable hits, "Going in Circles," and "Check it Out," this candied cover turned out the be the Friends of Distinction most popular single. My college friends might remember that this single used to be a staple in my Oldies Shows at the legendary Rathskeller!
Refugee," Tom Petty and the Heartbreakers, 1979. Released 40 years ago this week, "Refugee" is the Heartbreakers at their finest, with Mike Campbell's economic phrasing, Benmont Tench's soulful organ playing, the lockstep rhythm section of Stan Lynch and original bassist Ron Blair and Tom Petty's gritty, passionate vocals. As with many of the defiant lyrics on his groundbreaking album, Damn the Torpedoes, "Refugee" was inspired in part by a feud Petty was having with his label and cloaked his anger in relationship metaphors. Today, of course, "Refugee" is known for being one of the most revered rockers from the late 1970s. Thanks to the daily replays of his old Sirius Show which has lived on after his death, Tom Petty's Buried Treasures, I still check in with Tom many times each week. It's a way you can think of him delightfully in the present tense.
"Something's Coming On," Joe Cocker, Live at Woodstock, 1969. Like a hurricane suddenly appearing on a listless summer's day, an impossibly young Joe Cocker stuns 500,000 spectators at the legendary Woodstock Music Festival fifty years ago this summer and absolutely slays them in a four-minute musical extravaganza of both passion and pluck. "Something's coming on…." indeed, for the madman from England who then enchanted audiences over the next 40 years plus.
"This I Swear," The Skyliners, 1959. While this barely made it on the Billboard Top 20 sixty years ago this week, nevertheless, it is now considered one of the most superlative singles that the Skyliners, the wildly popular doo-wop group from Pittsburgh, ever produced. It's unfettered romantic tones – sung by one of the most underrated vocalists of the 50's, Jimmy Beaumont, makes "This I Swear" one of those singles that you listen to over and over again. As Karen Carpenter once sang, "Every sha-la-la-la/Every wo-o-wo-o, still shines/Every shing-a-ling-a-ling/that they're startin' to sing's, so fine."
"Last Soldier," Pearl Jam, 2001. Memorial Day is the day we remember our fallen soldiers—the ones who bravely and selflessly lost their lives in service to their country. Here is a phenomenal Pearl Jam number, which honors such heroes reverently. We can never thank them enough.
"Veronica," Elvis Costello, 1989. The best song on dementia that's ever been produced in the rock era, Elvis and his lustrous band, The Attractions, reverently pays dutiful homage to all of those who are still here but have left us to the ravages of Alzheimer's. Sadly, while we have made enormous progress on a host of fronts medically since 1989, dementia is still on ongoing heartbreak. "Well, she used to have a carefree mind of her own/And a delicate look in her eye/These days I'm afraid she's not even sure/If her name is Veronica."
"I Got the Sun in the Morning and the Moon at Night, Doris Day, Vocals – with Les Brown and his Band of Renown, 1946. While people are rightfully recalling Doris Day's luminous work in the 1950s and '60s as a result of her passing, her underrated work in the '40s as a fledgling singer for Les Brown and his orchestra was simply outstanding. In this Greatest Generation classic, twenty-three-year-old Doris Day sings the most effervescent version possible from Irving Berlin's Annie Get Your Gun. This is is like early summer sunshine – it will chase any dark cloud away. RIP, Doris – and thank you.
"Baby, I'm for Real," The Originals, 1969. We took soul music like this for granted 50 years ago when gems like this were released, but these days, we know better. We now realize that such magic is not commonplace but absolutely unique. The Originals, often called "Motown's best-kept secret," recorded two albums and several singles but only this and "The Bells" made to the Billboard Top 10. Of course, the group was produced by the legendary Marvin Gaye and featured original songs by Smokey Robinson and the iconic Motown songwriting team of Holland, Dozier, and Holland, including, "Baby, I'm for Real." While it was largely ignored when it was released, it has become a staple on Sirius Radio's Soul Town station.
"Pistachio," Lisa Hannigan, 2009. The vastly underrated Irish singer, songwriter, and performer came out with her first solo album ten years ago this May, and "Pistachio" was one of the feature numbers and was later included in the Fargo TV series. Lilting, searing, and ethereal, Lisa's songs are the kind that still lingers well into the night. This is a ballad from a world filled with both magic and wonder. Not a bad place to be.
"Cruisin'," Smokey Robinson, 1979. One of Smokey's later hits that turned out to be as smooth as a baby blanket, this was a later significant hit for the great singer-songwriter extraordinaire. Bob Dylan once pronounced him, "America's greatest living poet." When Smokey wrote the song, his guitarist, Marv Tarplin, had already written the music years previously. As Robinson said years later: "Marv put it on cassette and gave it to me to write the lyric. As it turned out, it took me five years to write. I had the music, and that music is so intimate and sensual, but I couldn't get the words. Then one day I got: 'You're gonna fly away and I'm glad you're coming my way.' And then I was driving my car down Sunset Boulevard and I heard that song by the Rascals, 'Groovin,' and I thought, 'That's it! Grooving.' But then, no, it wasn't intimate enough, it wasn't sensual enough for the music, and that's when I thought of 'cruisin.' You'd be surprised by how many people speculate on what Cruisin' means, 'Cruisin" is a word that I leave up to the listener. When you're with the person you're with, and you feel you're cruisin', it's whatever you want it to be." As a singer, Smokey Robinson could evoke joy, sadness and their bittersweet combination with his velvety high tenor. In the end, you can't beat this sound or that voice.
"Love Can Make You Happy," Mercy, 1969. 50 years ago this May, Mercy's "Love Can Make You Happy" entered the Billboards Top 10 where it remained through the rest of the spring. This anthem to love has long been cherished by those who remember hearing it as children and teenagers for obvious reasons. Like "Get Together" and "Precious and Few", "Love Can Make You Happy" was all about peace and understanding. However, because of problems related to copyright laws and conflicting lawsuits, the ballad has never been a major staple on oldies' stations. In an uncertain and precarious time, this pop classic reminded us that love was always, always the answer.
"Reunited," Peaches and Herb, 1979. While soul music has a back shelf life by 1979, ballads such as this paved the way for a revival by such newcomers as Anita Baker and Luther Vandross. That the rock and soul veterans, Peaches and Herb (as in "Love is Strange"), would have a number one hit with this song 40 years ago this week after having not been in the Top 40 for a decade proved to be the proverbial icing on the cake. Musicians on this song included Bob "Boogie" Bowles and Melvin "Wah Wah" Ragin on guitar, Scott Edwards on bass, and James Gadson on drums. These were some of the top studio musicians of the era, and as Edwards said later on: "Most of the hits were stuff that we came up with ourselves. We'd have a basic chord chart, because at the time the people who were arranging had good ideas for the strings and horns. But as far as the rhythm section, most people, if they were smart, they left the rhythm section alone. That's what happened with 'Reunited'."
"See Me, Feel Me," The Who, 1969. In retrospect, this culminating closing track from the musical, Tommy, released five decades ago this year, might very well sum up the magic and feeling of the 1960s better than any other song out there. The ultimate adrenaline rush, the Who's performance of this at Woodstock turned out to be a revelation. When I once played it for my class, one of the students blurted out, "Is this for real?" She could not believe that the bookends of passion and innocence could be so profound. A time it was…and what a time it was.
"(A Fool) Such As I," Elvis Presley, 1959. 60 years ago this spring, "The King" returned from Germany on leave from the Army for two weeks and hardly skipped a beat, singing this Leiber and Stoller classic at RCA's famed Studio B in Nashville in just four takes. Initially released as the B-side to "I Need Your Love Tonight," "A Fool Such as I" turned out to be an even bigger hit, reaching number one in the UK and number two in the United States, where it went platinum. "(A Fool) Such as I" featured the luminous guitar work of Scotty Moore, Chet Atkins, and Presley, percussionist D. J. Fontana rum-tum-drum work, brilliant keyboarding by the great Floyd Cramer, and the ever-loyal Jordanaires singing the backup musical accompaniment. When Elvis was on top of his game, there was no one better.
"I Won't Back Down," Tom Petty, 1989. Recorded 30 years ago this week, "I Won't Back Down," turned out to be the first of three top ten singles released from Petty's biggest-selling album, Full Moon Fever, a brilliant solo album that the Heartbreakers provided the musical backdrop (except for longtime drummer Stan Lynch). Apart from this densely layered Jeff Lynne production, it all felt like a Heartbreakers record, especially on the first single, which finds Petty in a particularly defiant mood. The backstory is especially disturbing: Before recording Full Moon Fever, an arsonist burned down Tom Petty's house while he was in it with his family and their housekeeper. They escaped and spent much of the next few months driving between hotel rooms and a rented house, but Petty was severely shaken. It was on these drives that he came up with many of the songs for the album, and the fire was a huge influence, especially on this song. Petty felt grateful to be alive but also traumatized – understandable since someone had tried to kill him. Like all great music, it still rings true after all of these years.
"King Harvest (Has Surely Come)," The Band, 1969. "King Harvest (Has Surely Come)," The Band, 1969. The Band faced a lot of pressure to top 1968's Music From Big Pink, but just a year later, they released another seamless disc, unambiguously named The Band. This masterwork, which is now a half-century old, concludes with "King Harvest (Has Surely Come)" the poignant lament of a farmer facing a nightmare of a year. "It was the harvest time of year when Woodstock was very impressive," said Robbie Robertson in a Rolling Stone interview years later. "Everything turned red and orange, and it just made you realize that this was the culmination of the year for so many people. That's when it all came down, whether the year worked or not. Ultimately, when The Band goes timeless, they turn into accomplished novelists.
"That's Why I Love You So," Jackie Wilson, 1959. Released 60 years ago this week, this rock-soul classic, written by a then unknown Berry Gordy and performed by the great Jackie Wilson, eventually went to number 2 on the Billboard charts later on that spring. Like so many of Jackie's soul-rock numbers, it's impossible not to dance when a song such as "That's Why I Love You So" is played (preferably on a jukebox).
"It's Your Thing," The Isley Brothers, 1969. After nine years of recording for Berry Gordy at Motown Records, the Isleys fled the record label in early 1969 and revived their own T-Neck Records, where they unleashed the free-will funk of "It's Your Thing." Their biggest hit, it earned a lawsuit from Gordy, who claimed he owned the song. It came out in court that it was all about hurt feelings. Ronald Isley, who wrote most of the song, liked the double-meaning of these lines, which made the song risqué and radio-friendly at the same time. In a year of great soul music, this single, which topped the charts 50 years ago this month, might very well be at the top.
"Tragedy," Thomas Wayne and the Delons, 1959. Written by Elvis's lead guitarist, Scotty Moore, "Tragedy" was a hit for Thomas Wayne and the Delons, when it reached number 9 in the Billboard Top 40 sixty years ago this week. Two years later, the more popular Fleetwoods would take the tune to number one on the charts. In the end, one of the many reasons that I still love "the old songs" is that they were framed in soulful innocence. Scotty Moore later claimed that the residuals from the song enabled him to pay for his kids' college educations. "Working for Elvis built our house. Writing 'Tragedy' provided my kids with a future." We should all be that lucky – and that talented.
"Body and Soul," Coleman Hawkins, 1939. The number one song in the US 80 years ago this spring, no one ever recorded a better version of this revered standard than the venerable jazz legend. After one listen of this, it's evident where the Bird got his style, tone, and phrasing from – the indomitable Mr. Hawkins. My music professor in college, Dr. Bill Davis, once claimed that Hawkins' version of "Body and Soul marked the first time jazz players actually played the scales in the chord changes. While the public adored him, Coleman Hawkins is even more revered by jazz musicians around the globe as a Founding Father.
"Little Queenie," Chuck Berry and Keith Richards Live in London, 1979. With a guitar intro that amplifies, "Johnny B. Goode"," Chuck's "Little Queenie" – released 60 years ago this April as single by the legendary Leonard Chess of Chess Records – shows how deftly Berry could make a variation on the theme, since he sings the second verse ("Meanwhile, I was thinkin'/If she's in the mood no need to break it") with a brand-new swagger. In his autobiography, Chuck wrote that the song was a fair depiction of how he was as a teenager. "That was typical of me in high school, to stand around thinking instead of acting during occasions when I'd have the opportunity to get next to a girl by dancing," he wrote. "It's just like me even today to wait around until it's too late to latch on to the chance to meet a person I favor." It went on to become one of the Chuckster's most covered songs – everyone from the Beatles and Stones to Bruce Springsteen and the Velvet Underground – took a stab at it. In this incredible live version, Berry is backed by Keith Richards of the Stones, who play reverently behind him. I am incredibly thankful that I saw the Chuck perform this twice in person – at the old Boston Garden and the Cape Cod Coliseum. Hail, hail rock 'n roll!
"More Today Than Yesterday," The Spiral Starecase, 1969. The proverbial one-hit wonders, Sacramento, California's Spiral Staircase released one album and a couple more singles before poor management and squabbles over finances caused the group to splinter by 1969. Still, 50 years ago this week, this classic single made it to number 12 on the Billboard Top 40. A few years later, it became a "go-to" single that I played regularly at my Saturday night oldies' dances in college. Featuring singer/guitarist Pat Upton on vocals and a Buckinghams-like horn section lead by saxophonist Dick Lopes, "More Today Than Yesterday" is still a staple on the Sirius 60's station a half-century later.

"Rollin' Rock," The Tielman Brothers, 1960. Imagine how quickly American rock 'n roll shaped the sound to young people around the world. Here, the Tielman Brothers, the first Dutch East Indies band to successfully venture into the international music scene in the 1950s, performs their classic on live television – and those who have seen it have never been the same. Obviously, they were one of the pioneers of rock in The Netherlands, later becoming famous in Europe for playing a kind of rock and roll later called Indorock, a fusion of Indonesian and Western music. If this jaw-dropping live performance could be properly placed in the Rock Bible, then it would be firmly ensconced in the Book of Genesis. Not surprisingly, when I showed it to one of my English classes recently, their collective jaws literally dropped to the floor.
"The Hammond Song," The Roches, 1979. Produced by Robert Fripp of King Crimson fame, this impeccable single, which was released 40 years ago today, sounds like a ballad sung at a campfire in New Hampshire back in the early '60's and sung by a group of talented counselors to a cabin full of girls. In my mind, "The Hammond Song" is perhaps the most inimitable ballad recorded over the past four decades. Even the Roches didn't dare do a follow-up to it. To add to the luster, Robert Fripp's electric fillers fit both the time and the style of this decidedly unique recording. How truly sad that Maggie Roche, who composed the tune, died much too young of cancer two years ago. In every way, this is a must-listen.

"Peel Me a Grape," Diana Krall, 1999. Canada's First Lady of Jazz takes on Anita O'Day's veritable standard and breathes such rarefied air into it that it ends up taking us all into the outer atmosphere. Sultry, steamy, and oh so sublime. The Berklee School of Music graduate is the only jazz singer to have eight albums debuting at the top of the Billboard Jazz Albums in history. That Diana Krall is also happily married with twin boys to the great Elvis Costello only seals the deal for me.
"London Calling," The Clash, 1979. Named after the call signal of the BBC's World Service broadcasts, the title alarm of The Clash's third album was an SOS from the heart of darkness. When they recorded the song, The Clash — British punk's most political and uncompromising band — were without management and sinking in debt. Their plight mirrored their country at the time, especially among a generation, which seemed to feel as they had little future. What the band ended up producing was the equivalent of Martin Luther's 95 Theses became an anthem to a generation both in England and across the globe. Released 40 years ago this month, the single, "London Calling," still sounds as desperate, kinetic, and fresh as it did in '79.
"Heat Wave," Ella Fitzgerald, 1959. From her legendary Verve Record release, The Irving Berlin Songbook, Lady Ella adds a sense of class and pizzazz to this old Berlin standard first recorded by Bing Crosby while claiming it as her own. Conducted and arranged by Paul Weston (who wrote "Day By Day"), the disc ended up being nominated as the Album of the Years at the 1959 Grammy's. This is another example of Ella working as hard as she could to make a song sound effortless to sing. You can listen to it in the dead of winter and think that its a hot August day. As Frank Sinatra once said, "Ella never made a cover song. She literally reinvented it and breathed new life into whatever she was recording at the time." As usual, Old Blue Eyes has bingo.
"Atlantis," Donovan, 1969. Released 50 years ago this April, any comment to this Donovan single would not do it any justice. It is meant to be taken in like a tidal wave or a sudden ray of sun hidden long hidden behind a cloud. Indeed, when one of my friends called Donovan, "downright weird," I responded by saying, "Yes, and that's his point!" After all, any songwriter who gives birth to a song entitled, "First There is a Mountain, Then There is No Mountain, Then There Is," is going to be decidedly peculiar. In terms of "Atlantis," the rumor has long been that Paul McCartney sang one of the backups here, and he's never denied it (which Sir Paul tends to do when you get the facts wrong). Ultimately, "Atlantis"is so beyond parody that it creeps into the terrain of magnificence.
"Here Comes the Moon," George Harrison, 1979. The most delicious nugget from George Harrison's vastly underrated self-titled album released 40 years ago this spring, "Here Comes the Moon" evokes an elongated Hawaiian night during "waipuna manawa." A photo from the tune's bedroom writing session sums it all up: George, shirtless with his acoustic guitar firmly in his long-fingered hands, and friend Stevie Nicks, pigtailed and pensive, composing lyrics to George's lullaby-like melody. According to Harrison, they stayed up all night to compose a "little prayer for a God-given little brother to the Sun." A decade previously, he composed, "Here Comes the Sun." after an all-nighter with buddy Eric Clapton in England, and now here he was exactly ten years later, doing the same thing with Stevie Nicks in far-off Hawaii. In both cases, the art and the moment sparked like a thousand suns.

"Mannish Boy," Muddy Waters and Johnny Winter Live, 1979. There are a myriad of versions of Muddy playing his iconic ballad on his own, or supported by such alpha-stars as Eric Clapton, Bonnie Raitt, B. B. King, The Band, Keith Richards, Son House, and Jeff Beck, but there is nothing comparable to this live recording with the great Johnny Winter and his band recorded 40 years ago this month. It encapsulates the blues, Americana, and life itself in six glorious minutes. On a personal note, I played this opening number and the entire live album incessantly during a ten-week summer teaching experience in Lugano, Switzerland in 1983. Amidst the glory of the foothills to the Alps, it reminded this expatriate at the time of the best of the country I was born and raised in. Don't let any political party or individual tell you that this country is homogeneous. We are a mosaic, and each part has the potential to bringing out the best in others if we just tuned in.

"When I Die," Motherlode, 1969. Motherlode was a Canadian pop-rock group formed in 1969 in London, Ontario. The group scored tangible success in the US with their single, "When I Die." While it is somewhat of a Lost 45 in the States these days, it is still a revered standard in Canada, thank goodness. You could easily place it on a songlist of infectious, harmonic love songs that framed the 1960s musical world. One of my old friends once thought that it was a song that came from the musical, Hair. Not a bad bit of speculation. "When I Die" would have fit in neatly near the end of the second act.
"Wondering Where the Lions Are," Bruce Cockburn, 1979. 40 years ago this month, when I first heard this single from Bruce Cockburn played on WBCN/Boston by Mark Parenteau, I nearly drove off of Route 9. I still can't figure out why, but it touched me to my core. Like James Taylor's "Copperline," there was something here as outlined by the Ottawa native that touched the hemline of both childhood and eternity. Its innocence cannot be underestimated. Ultimately, we are all children hiding in adult bodies.
"Both Sides Now," Joni Mitchell, 1969. When musicologists look back on 1969, it will be this surreal ballad that might find its way on top of the musical pyramid in the end. While her lyrics here have been called the soundtrack of an entire generation, let's go behind the usual and go to the more unexpected pleasures – Joni's unusual phrasing. Anyway you look at it, "Both Sides Now" is a devilishly hard song to cover because her vocal so often seems as if it's 'out of time' with the guitar; with words coming late on the beat, or hanging on too long, But then she lands on the sweet spot, and it all makes beautiful sense, exactly how Joni intends you to understand the subtlety of the lyric. It's not just about the words, sublime as they are, it's about how she SINGS the words here. In an entirely different genre, Sinatra had the same rare gift. If and when Joni Mitchell wins a Nobel Prize for Literature, "Both Sides Now" will be one of her siren songs that will be played in celebration that day in Oslo.

"Venus," Frankie Avalon, 1959. I don't care if you call this ballad a schleppy, bobbysoxing, Eisenhower-era bag of smaltz, I will defend it to the day I die. The number one tune in the US 60 years ago this week, "Venus" is still considered a prototypical early rock song. "I still remember it so vividly," Frankie Avalon told The Toronto Star in 2013. "I'll never forget it. The minute I heard 'Venus,' I fell in love with it, and we decided to go to New York right away to record it. I sat in the back seat of the car with Bob, rehearsing the arrangement he had done on the guitar. We walked into Bell Sound in New York. We had a 7 PM recording date. It was all one track then, the band was there with you, and they played, and you sang, and that was it, buddy. No mixing and fixing like today. Back then, they pressed the acetate recording right away. I waited for it to be done until 4:00 AM. I took it back to Philly with me like it was gold. I had a little victrola, and I played it over and over again. I just knew it was going to be a smash." It was.

"Everyday People," Sly and the Family Stone, 1969. Goodness, what a song, and while Sly has been somewhat marginalized lately, he will always be an authentic American Master to me. This late '60's anthem takes some inspiration from, of all things, Mother Goose, adding a twist to the traditional nursery rhyme "Rub-a-dub-dub." The familiar three men in a tub – the butcher, the baker, the candlestick-maker – become the butcher, the banker, the drummer, and, in the spirit of the song's message of solidarity among all people, Stone adds: "makes no difference what group I'm in." In a modern world where exceptionalism is rampant, I always loved that Sly viewed himself as just one of us- a regular person with real-life struggles. Given his multi-ethnic band, Sly didn't just talk it, he lived it and really did try to bring all of us together through the most universal of venues – music.

"Kathy's Song," Eva Cassidy, 1993. On St. Patrick's Day, why not post a rare recording of one of the great Irish-American voices in the past 100 years, the incomparable Eva Cassidy. It is easy to tell that she just loved to sing. I love that Cassidy performed as if she had nothing to prove, no statement to make, and never an attempt to show you "what I can do." On this version of "Kathy's Song," Eva's impeccable prowess on the acoustic guitar serves as a backdrop for her soaring vocals of this melancholic Paul Simon tune, an ode to his old girlfriend, Kathy Chitty, whom he had left behind in England.

"The Sultans of Swing," Dire Straits, 1979. There are a few occasions when I hear a song for the first time and say, "Oh, my God!" "The Sultans of Swing" was one such ballad. At the time, I thought that Lou Reed and Bob Dylan had somehow morphed into one human being in the form of Mark Knopfler. In reality, I was not too far off there – at least for a spell. Interestingly, Knopfler got the idea for the single from watching a wretched club band perform one dreary evening in Ipswich, England. According to legend, he ducked into a bar where the local bar band was closing out the night to an audience that was maybe four or five drunks unaware of their surroundings. The hapless group ended their set with the lead singer announcing, with no apparent irony, "Goodnight and thank you. We are the sultans of swing!" Said Knopfler: "When the guys said that there was something really funny about it to me because Sultans – they absolutely weren't. You know they were rather tired little blokes in pullovers." And the rest, as they say, is history.

"Time of the Season," The Zombies, 1969. This is quintessential Zombies – haunting vocals; impeccable musicianship; melodic hooks; and surprising lyrical twists. Built around the bassline heard in the intro, this song has some very effective and unusual structural components that helped it endure. The bass riff is punctuated with a hand clap and the breathy "ahhhh" vocal. These elements add sonic texture during the verses, and also show up in the two interludes. And while most hit tunes beat you into submission with a prevailing chorus, this one doesn't. The full chorus – "It's the time of the season for loving…" takes just eight seconds and is repeated three times. The number 3 song in the US fifty years ago this week, I wish I could somehow venture back in a time machine and personally convince the Zombies not to break up after this single was released. After all, they were just getting started.

"Come Softly to Me," The Fleetwoods, 1959. Fleetwood members Gary Troxel and Gretchen Christopher were waiting for a lift home from high school in Olympia, Washington by her mother one day in the spring of 1958. Impulsively, Troxel started humming, "Dom dom, dom domby doo wha…" and Gretchen noticed that it was the same chord progression that she used in a song that she had just finished writing, "Come Softly." She asked him to slow his tempo, then sang her song atop Troxel's humming. Its nursery-rhyme-like veneer was downright hypnotic, and the melodies oh, so soothing. It took the fledgling group six months to ultimately record it, but it was well worth it. By the winter of 1959, it was the number one song in the US and Canada. "Come Softly to Me" still works its magical charm on most listeners all these years later.

"Lotta Love," Nicolette Larson, 1979. Cancer is a bitch, and Nicolette Larson should still be here manufacturing great singles such as this gem, which was released 40 years ago this March. That she has been dead for over 21 years now is simply unacceptable. This live version of the Neil Young classic from Comes a Time is superb in every way. Yes, Young and Larson were a couple briefly while this song was both composed and then recorded. Her stellar work on Neil's Comes a Time garnered her a recording contract with Warner Brothers, and while she never had another significant solo hit after "Lotta Love," she was still a revered artist in the genre because of her prodigious pipes.

"Try a Little Tenderness," Three Dog Night, Live, 1969. Most bands realized that they wouldn't dare do a cover of the great Otis Redding's 1965 signature song. Four years later, however, Cory Wells, the lead singer of Three Dog Night, finally mustered the gumption to take one of soul music's most iconic ballads straight-on. The band also had the gall to sound like the Funk Brothers on speed and support Wells' singing as if their lives depended upon it. This electric cover not only became a staple for Three Dog Night in their concerts over the next decade, but they then released it as a single 50 years ago, where it entered the Billboard Top 40. As the great Sam Moore – of Sam and Dave fame – commented at the time, "Otis would not only have approved their interpretation, he would have dug it."

"Blue in Green," Miles Davis, 1959. From his masterpiece, Kind of Blue, "Blue in Green" was recorded on March 2nd, 1959, in New York City at The Church, the legendary CBS Recording Studio on 30th Street. Wild Bill Evans, who starts the tune on the piano and ends it, and with Miles and John Coltrane and the bass up under it, played this circular movement inside of arrangement. Miles' tone throughout is both classical and rhapsodic through the mute he has on his horn. Miles said later that the aching loneliness throughout the song tries to capture the back road of his childhood in the rural South, a dusty, dusky place in Arkansas when Miles and his cousins walked in the darkness of a woody area. All of those memories that he had inside of him surfaced like a spring bulb in "Blue in Green."
"Hello, It's Me," Nazz, 1969. This heartfelt single, released in mid-December 1968, had become a popular single by February of '69, where it had grooved itself into the consciousness of the American youth psyche. Todd Rundgren's vocals and guitar work were impeccable; his supporting cast also rose to the occasion. Of course, Todd also composed the song, which takes us through a phone call where the singer breaks up with a girl. It's a remarkably realistic account, devoid of sweeping metaphors typically found in "breakup songs." In this instance, we hear the one side of the phone call, which starts with the familiar greeting, indicating they've been together a while. Then they have "the talk," where he hashes out why they can't be together and lets her know that she should have her freedom. As what has happened to us all in real life, all he can ask in the end is that she thinks of him every now and then. Like many at the time, I thought that "Hello, It's Me" was a single by the Association. When Rundgren was apprised of this by fans, later on, he took it as the ultimate compliment.

"Scar Tissue," The Red Hot Chili Peppers, 1999. Released 20 years ago this February, "Scar Tissue" was the first single released by the then newly formed Red Hot Chili Peppers. From its impeccable guitar work to its infectious rhythm section to the hypnotic lyrics, this number proved to be an exemplary introduction by a most important band of the present millennium. The video of the single shows the band driving through a desert and was directed by French director Stephane Sednaoui. As you will see, the band's members are all battered and bruised and the neck of John Frusciante's guitar is broken, a metaphor for the song itself.

"What a Fool Believes," The Doobie Brothers, 1979. Kenny Loggins co-wrote this with the Doobies' lead singer Michael McDonald in the winter of 1978. Loggins eventually put his version on his album, Nightwatch, which was released in July 1978, five months before they included it on their Minute by Minute disk. Loggins' version was never released as a single; the Doobies' version went to number one. By the way, Michael Jackson added some background vocals on this song. Ultimately, this was the 500th number one song of the rock era, which began in 1955 when Bill Haley's "Rock Around the Clock" soared to the top of the charts 24 years previously. From the first day I heard these lyrics – "He came from somewhere back in her long ago; the sentimental fool don't see tryin' hard to recreate; what had yet to be created once in her life; she musters a smile for his nostalgic tale; never comin' near what he wanted to say; only to realize it never really was" – I nearly plotzed.

"Reflections of My Life," The Marmalade, 1969. A top-five song 50 years ago this month, this Beatlesque number with John Lennon-like lyrics ("the changing of sunlight to moonlight; reflections of my life…"); a McCartney-like melody from his Revolver period; and a Harrison guitar riff, which sounded right out of Abbey Road. Even the drums sound like Ringo! All in all, "Reflections of My Life" proved to be the highpoint for the group from Glasgow who never had another substantial hit thereafter. Given how good this single was, maybe that was enough. One thing's for sure – you hardly ever hear a song like this nowadays – and that's a bloody shame. (RIP to lead singer, Dean Ford, who died on January 2, 2019, in Los Angeles at the age of 72).

"Hold the Line," Toto, 1979. Raise your hand if you thought that this song was written and recorded by ELO? I thought so for weeks when it was released until I heard that Toto recorded it. Given their prowess in songs such as "Africa," and "Rosanna," this great single was also top ten hit for the band from Southern California 40 years ago this February. From this lens, Toto was made up of six enormously talented musicians who had backed up such legends as Boz Scaggs, Aretha Franklin, Barbra Streisand, and Jackson Browne in the 1970s, but it was their vocal work that came to define them as a band in the subsequent decade.

"Dazed and Confused," Led Zeppelin, 1969. American balladeer Jake Holmes may not have gotten credit for inspiring Led Zeppelin's "Dazed and Confused" until 2012 when it all spilled out, but without his original trippy folk song, this Zeppelin mega-hit would not have existed. Holmes wrote a very different version of this song for his 1967 solo record, The Above Ground Sound. Jimmy Page heard it while Holmes opened for The Yardbirds and then later took his psychedelic interpretation to Led Zeppelin, which featured his iconic guitar bowing and wild instrumental breakdowns. In doing so, Page and his band refitted it and made it brand new. These days, of course, "Dazed and Confused" is a deserved rock staple.

"Take Me To The River," Talking Heads, 1979. Apart from this being a brilliant piece of music, "Take Me to the River" is one of the most wonderfully inventive interpretations of an original song, up there with Devo's version of The Stone's "Satisfaction" and Nazareth's cover of "This Flight Tonight" by Joni Mitchell. Like many Talking Head songs, it is the rhythm section that makes this song a much-deserved classic. In every way, this version is both timely and timeless.

Occasionally, there is a documentary that is released that is so powerful and compelling, that it needs to be shouted out to the musical market square in the "must-see" category. This is the case here. The great Sam Cooke was already in the highest reaches of rock and soul stardom when he was tragically shot 55 years ago this December. In 1964 – and to this day -Cooke's senseless murder at the height of his career was both haunting and inexplicable. This film captures the pathos magnificently. Sam was getting too powerful; he was friends with Dr. King, Ali, and Malcolm X; he had started his own record company, which had been formed to exclusively record young black artists; he was starting to write and record "songs that mattered," most especially, "A Change is Going to Come." When he died, Elvis, who idolized Cooke as a gospel singer and who subsequently mourned his death, said that the powers that be thought that Sam was getting too big and powerful, and, as a black man, he had to be somehow stopped. Of course, Sam Cooke is still deservedly known as "The Father of Soul Music," and was also the best male gospel singer of all time. As you will see if you take the time to view this astonishing film, his influence was moving way behind hit records all the way to the mantle of black power. For more than 50 years, I have loved Sam Cooke's music. How rare that the brilliance of his artistry matched the magnificence of his soul. in the end, this incredibly evocative documentary attempts to connect all of the dots and brings up surprising new evidence. If you have Netflix, then you can search for "The Two Killings of Sam Cooke."


"Nothing But a Heartache," The Flirtations, 1969. Even though "Nothing But a Heartache" made it to only number 34 in the Billboard Top 40 fifty years ago this February, its popularity as an oldie has made it one of the more popular singles from the 1960's era. Formerly known as the Gypsies, a girl-group from South Carolina, they reformed in London and became known as the Flirtations after that. Impeccably produced by British musical mogul, Wayne Bickerton, this earth-shattering single later became a staple at dance clubs in both Europe and the US. Hearing it these days, most assume the Supremes performed it. Sorry, folks, it's the Flirtations!
"She Say (Oom Dooby Doom)," The Diamonds, 1959. Ultimately, I have never outgrown doo-wop music; it is as enchanting to me now as it was when I first heard this exquisite single as a four-year-old back in the winter of '59. This number turned out to be Barry Mann's first top ten single for the Brill Building musical phenom. According to the singer-songwriter himself, an even younger Carole King – then known as Carol Klein – helped Mann compose the bridge. Thankfully, "She Say (Oom Dooby Doom)," was then given to one of the greatest doo-wop groups in history, the Diamonds, who made it into a Top 20 hit sixty years ago this winter.

"A Tribute to Buddy Holly," Mike Berry and the Outlaws, 1961. When 22-year-old Buddy Holly perished in the crash of a private plane outside of Clear Lake, Iowa on February 3, 1959, more than 40 tribute songs to him were recorded over the years, including Don Mclean's "American Pie." Two years after Holly died, Mike Berry, a fledgling skiffle player from Northampton, England, wrote and recorded this poignant tribute, which remains the best song to Holly's memory. According to Berry, the bridge refrain he croons… "was channeled right from Buddy. It almost sounds corny, but it came to me in a dream." (Kudos to drummer Carl Betz for mirroring Jerry Allison by duplicating the "Peggy Sue" tat-at-tat-tat percussion). I agree with the late George Harrison: "A Tribute to Buddy Holly" captures the essence of his music, his death, and his legacy. Of course, Buddy Holly lives on in his music as this singe emphatically implies.

"Wichita Lineman," Glen Campbell, 1969. An absolutely seamless production from composer Jimmy Webb, vocalist and guitarist Glen Campbell, and LA's legendary Wrecking Crew, who provided the brilliant orchestration – especially the string section – which were arranged by the incomparable Quincy Jones. Because of the neo-mystic quality of the number, it was not a surprise that it ended up being the best-selling single released during the winter of 1969. Given the somewhat quirky subject, the backstory of "Wichita Lineman" is just as absorbing. According to Jimmy Webb, he was driving along the Kansas-Oklahoma border during the summer of 1968 when he saw a lonesome telephone lineman working atop a telephone pole. This incident gave him the idea for the ballad. That evening, he composed it in a hotel in Tulsa, Oklahoma and then called his buddy, Glen Campbell, "Glen," exclaimed Webb, "I've got your next number one song!" Finally, "Wichita Lineman" contains one of my favorite lines in the entire rock and roll canon – "And I need you more than want you/And I want you for all time…" As a lyricist, you dream or writing a line so prescient.
"Moonlight Serenade," Glenn Miller and His Orchestra, 1939. This dreamy ballad was Glenn Miller's breakout hit, but it was actually years in the making. Miller wrote the melody in 1935 when he was a trombone player in Ray Noble's band. When he finally assembled his band, Glenn and his orchestra famously recorded it. "Moonlight Serenade" made it to number 1 on the US Billboard charts 80 years ago this January, and it stayed there until mid-spring. (This, of course, comes on the heels on the news that Glenn Miller's long-lost plane might well have been discovered off the English coast.) In late November 2005, as my mother lay dying, I played "some of the old songs" for her in her hospital room. When this familiar tune came on, she said, almost by association, "Before the war…the Outer Beach in Chatham….visits to the Totem Pole at Norumbega Park in Auburndale with your Dad…when life seemed both simple and good." Yup, you're right, Mum.
"Yeah, Man," Sam Cooke, 1964. In the last year of his life, the King of Soul fearlessly experimented with soulful R&B and rock, a heady mix that wouldn't clearly emerge until a decade later with the Tower of Power. Here is one of the last records he recorded, "Yeah, Man," which Arthur Conley later used in 1967 as the template for "Sweet Soul Music." All of Cooke's "regulars" backed him here, including his soundman, Sonny Bono, and producer Lou Adler, along with the incomparable Wrecking Crew. Sam Cooke was not only a brilliant singer and songwriter but an authentic visionary as well. On what would be his 89th birthday, Sam is still The Man.

"You Should Have Been There," Marshall Crenshaw, 1989. One of my favorite Marshall Crenshaw singles ever, sadly, "You Should Have Been There" turned out to be a little blip on the musical screen when it was released 30 years ago this winter. I always believed that if Crenshaw had released his singles in the 1960s, he would have been a gigantic star, but timing in life is everything, isn't it? With his Beatlesque sensibility and his passion for coy lyrics and deft musicianship, ala Buddy Holly, no wonder he is a revered musician among pop veterans. I do think that Crenshaw, who played Holly in the movie, La Bamba, and who played John Lennon on Broadway in Beatlemania, produced the kind of music that Holly might well have generated if he had not died so young.
"Love is Strange," Buddy Holly, 1959. Originally recorded on Holly's brand-new Ampex tape recorder in his Greenwich Village apartment 60 years ago on January 19, 1959, Buddy's longtime producer, Norman Petty, later added the orchestration supporting his acoustic guitar after he died in a tragic plane crash on February 3, 1959. Of course, "Love is Strange" was a crossover hit by American rhythm and blues duet Mickey & Sylvia, which was released in late November 1956 by the Groove record label. The tune was based on a guitar riff by the legendary Bo Diddley, which Holly duplicated here. Sadly, it was the last song that Buddy ever recorded, which is why Norman Petty reverently included the eerie organ background, performed by his musician wife, Vi. Holly's mother, Ella, later said that it sounded as if her son was singing to her from heaven. If you haven't ever heard this incredible record, you will notice that Buddy plays the song at 2/4 time, a radical departure from the original rockabilly tune that Diddley had originally written it in a few years previously. When Paul McCartney hosted a Sirius show on Holly's memory a few years ago, he played "Love is Strange," and remarked, "It's almost as if Buddy knew something was going to happen."

"Someday," Sugar Ray, 1999. When I first heard "Someday," it sounded like a 1960s AM single; melodic; wistful lyrics, crisp phrasing; and sound musicianship. I later learned that the band, Sugar Ray, who hailed from Newport Beach, California, intentionally copied the ethos the 1960s Californian Pop Sound, so it all made sense then. Released 20 years ago this year, "Someday" is one of those songs" that instantaneously brings a smile to my face. Perhaps it's because that my two sons asked me to turn up the radio when it came on one morning when we were driving off to another hockey game that they would then play at the outdoor Greenwich, Connecticut Skating Rink! In retrospect. I would give anything to go back to those fleeting times. Ultimately, of course, music is the enduring window to the past.
"Touch Me," The Doors, 1969. From their underrated album, The Soft Parade, this unique single was composed by Robby Krieger, and its riff, according to Krieger, was influenced by, of all things, The Four Seasons' "C'mon Marianne!" The tune became notable for its extensive usage of brass and string instruments to accent Jim Morrison's vocals, including three measures of the lead singer's crooning like Sinatra, and a powerful solo by saxophonist Curtis Amy, who put a bow on the entire proceedings. Ultimately, "Touch Me" reached #3 on the Billboard Hot 100 and #1 in the Cashbox Top 100 in January 1969 (the band's third American number-one release). Here in this incredible live TV performance in 1969, Jim Morrison starts with the proceedings with a visionary poem, and then plays it straight, much to the relief of the Nelson Riddle Orchestra, who backed up the Doors on this Smothers Brothers Comedy Hour appearance. For real.
"Lonely Teardrops," Jackie Wilson, 1959. After listening to this mesmerizing original recording, Elvis Presley supposedly said to Wilson: "I have no idea why they call me, 'The King.' You are." (Years later, this anecdote became the basis of Van Morrison's iconic rocker, "Jackie Wilson Said."). Sixty years ago today, this early soul classic was the number 1 song in America. "Lonely Teardrops," which was written and produced by a young Berry Gordy, was used as the proceeds to launch Motown Records as a corporate entity in 1960. In September 1975, when Jackie Wilson was performing at the Latin Casino in New Jersey, he collapsed from a combined heart attack and stroke smack dab in the middle of a rendition of "Lonely Teardrops." Wilson never recovered and remained in a coma for eight more years until his death on January 21, 1984. What tragic irony that the last words Jackie sang before collapsing were, "My heart is crying, crying!" The audience at first thought that his fall on stage was part of the act and they started to wildly cheer him. Soon, however, It became evident that something was terribly wrong. Upon his death, Stevie Wonder said famously, "Before there was Marvin Gaye, there was Sam Cooke and Jackie Wilson."
30 years after Jackie came out with "Lonely Teardrops," actor/musician Howard Huntsberry paid homage to the essence of Jackie Wilson in his brilliant portrayal of him in the Ritchie Valens' biopic, La Bamba. This is simply mesmerizing!
"Another Brick in the Wall, Part II," Pink Floyd, 1979. A few years ago, the song's lyricist, Roger Waters, admitted in an interview in The London Times, "You couldn't find anybody on the planet more pro-education than me. It is the air I breathe. But the education I experienced in an English boys' grammar school in the 1950s was exceedingly controlling – and, in my mind, that demanded rebellion. The song is meant to be a rebellion against an errant government, against people who have power over you, who are wrong. Ten it absolutely demands that you rebel against it." As an educator for nearly four decades, I have never thought that "The Wall" was never about education or bad teachers. It was always about authority and mind control in a world dominated by an explosion of jingoistic language, thoughtlessness, and collective sociopathy. If "The Wall" were to be updated in 2019, its laser beam might well be on Fox News.
"Time Has Told Me," Nick Drake, 1969. The archetypal musical cult figure, Nick Drake produced just three solo albums in his tragically compressed life, and yet he is revered in his native UK and behind for producing music that is continually stripped bare, honest, soul-to-soul. As we all have discovered over time, life is a heavy emotional burden for many of us. Those who feel deeply, see deeply, need deeply. Nick was one of the burdened. This single, which was released 50 years ago on January 4, 1969, reminds us that life is fleeting."Time has told me/You're a rare, rare find/A troubled cure/For a troubled mind/And time has told me/Not to ask for more/For someday our ocean/Will find its shore…" While he died much too young in 1974, Nick Drake's music has been rediscovered and is played regularly, especially in Europe, where he is now an iconic musical figure.
"Giving You the Best That I Got," Anita Baker, 1989. The Queen of Smooth Soul retired a few years ago, but the great Anita Baker ended up leaving an impeccable legacy. Three decades ago, the joy that wrapped around each of her ballads was like an unexpected warm sunny day in the midst of a wintery cold front. Ultimately, "Giving You the Best That I've Got" turned out to be Anita's biggest-selling hit, scoring #1 on both the Adult Contemporary and R&B charts, and number 2 on the American Top 40. Composed by the legendary Motown songwriting team of Holland, Dizier, and Holland, Baker took it and added some detail at the beginning and had the tempo sped up, producing a peppier version. A quintessential crossover song, this tune ended up becoming a staple of jazz, pop, and light rock stations thereafter.