48 Radcliffe Road, Wellesley, Massachusetts in May 1970. Whatever the season, the house was a beacon of light to those of us who lived in it.
As a congregation of workmen employed by local builder Ralph Porter assembled on a cleared track of dirt that measured half an acre, the foreman immediately looked at the designated patch of ground where the firm's bulldozer would soon continue digging. "If we're lucky," he said to his men, "we might be able to finish this today."
Circling the property, piles of snow lay where the men the day before had plowed away the drifts made by a recent storm. He covered his face when the wind suddenly gusted from the northwest at 9 miles per hour. At 8:01 am on the morning of January 28, 1955, the temperature stood at 11 degrees Fahrenheit, as a hollow sun began to appear on the horizon. In pre-global warming New England, this was a typical mid-winter fare for the people who lived and worked in Wellesley, Massachusetts.
A few hours previously, at the then-named Richardson House in Boston, I was born, the fourth and last child of James Lawrence and Laura Rice Kelly, who then resided at 57 Mayo Road in Wellesley. By the end of my first day of life, the basement of the house had been completed by the work crew of Ralph Porter Construction.
Until the day she died in 2005, my mother would remind me each year on my birthday of my intimate connection to 48 Radcliffe Road. "Shaunie, we might still be on Mayo Road if you hadn't been born! So our present house, in a special way, is yours." For nearly four decades, it was, and although I didn't live there for the last seven years that Mom resided thereafter Dad died in 1986, I still called it home.
Journalist Warsan Shire once wrote that no one leaves home unless home is the mouth of a shark. For me, it was the place where I could totally be myself, and I was a full-time resident of 48 Radcliffe Road from 1955-to 1984. Infancy, toddlerhood, childhood, adolescence, and young adulthood – 48 Radcliffe Road was the epicenter of who I was for more than 26 years.
Here I am in my new digs – my bedroom at 48 Radcliffe Road – still moving in six months later.
In the end, I knew every nook and cranny. During unrelenting windstorms, I recognized its groans, aches, and sighs. Our house could be scorching to the touch in a July heatwave or shiver in the midst of a February gale. I was there when our abode survived Hurricane Donna in 1960, and I helped Mom clean up after Hurricane Bob in 1991. When the legendary Blizzard of '78 hit Wellesley with hurricane winds and snowdrifts up to 56 inches at Mrs. Pelles's house at the bottom of Radcliffe Road, my parents received food and supplies by sleigh for a week. Homes, like people, have their own peculiarities, and our house, while conventional developed its own personality. It was a well-lit comfort blanket, a safe harbor, and a fierce warrior who stood up to all kinds of weather.
48 Radcliffe Road in a February blizzard, 1969. My bedroom has both of its storm windows open – I never liked the heat!
Over the years, I slept in every room, played hockey in the basement, and discovered a hiding spot in the attic where I read a legion of books. I shot thousands of baskets in our driveway and participated in countless games of baseball and football in the front yard. I walked my first steps in my bedroom, rode my first bike in our elongated driveway, learned how to write at the kitchen table, and watched President Kennedy's funeral in our book-lined den. Within its walls, I listened to everything from Little Richard and Buddy Holly to the Beatles and the Moody Blues to Stevie Wonder and Joni Mitchell to U2 and Bon Jovi. Virtually every girl I ever dated visited our house at one time or another.
For my first 35 Christmases, I celebrated 34 of them at 48 Radcliffe Road. It was my home base when I graduated from elementary school, high school, and college. On August 17, 1984, I walked from our house to St. Paul's Church a mile away to get married to Wendy Barnes of Wellesley.
In retrospect, our dwelling was never an object. It was the seventh member of our family.
This was never more apparent than in January 1986, when my father died suddenly of a heart attack in his bedroom. A few years earlier, we conversed about where he wanted to be buried. As a World War II veteran, I thought that Dad would want to be buried at Arlington National Cemetery. "Nope, Shaunie," he smiled. "I choose to be buried right behind our house."
This was not some Irish-tinged fantasy of an older adult who desired to be dumped in the backyard of the family baile. You see, our Wellesley dwelling abutted tree-lined Woodlawn Cemetery, and thus, this was doable.
Consequently, when Mummie traipsed up to the superintendent of the cemetery and purchased a plot as close to 48 Radcliffe Road as possible the day after Daddy's death, his last wish became a reality. When my wife and I then drove into our driveway on the day of my father's funeral and saw his casket lying on the ground no more than 500 feet from our house, we both smiled. "Dad's home," I said without irony.
Dad's casket through the trees from our backyard on the day he was buried at Woodlawn Cemetery in January 1986.
Mummie ended up staying at the old homestead for another eight years after Dad died. When Wendy – who came from the other end of Wellesley at Chesterton Road – and I moved to Greenwich, Connecticut in the fall of 1989 to work at The Greenwich Country Day School, we made periodic trips home on weekends. When our first child, Sam, was born in April 1991, we took him to see my mother on several occasions. One time, he visited his Gaga in his Halloween costume, and I showed him how I used to sit at the top of the stairs and then bump my way down to the bottom! Not to be outdone, little Sammy then proceeded to up and down the stairs for what seemed like an hour. Like father – like son.
When Mum informed us that she was selling the house – "nine rooms and one person is way too much!" – we treasured each visit home. Over Christmas break, 1992, just two months before my mother moved, Sam and I showed up over several mornings over our Christmas break because he loved to peck away at the piano, which had been a staple in our living room since '55. During one visit, it began to snow, and I shoveled the walkway and grinned when I remembered the countless hours I had pushed the snow away from the driveway for my parents who didn't believe in the concept of snowblowers until the mid-1980s.
Shoveling the "too-long driveway" old-school fashion on college during Christmas break in 1974.
On January 28, 1993, my 38th birthday, our elementary school alma mater, Tenacre Country Day, invited me to attend a dinner in my mother's honor, which was held at the Wellesley College Club. For the last time that evening, I slept in my former bedroom. Before closing the familiar blinds, I looked out at the barren treetops, which seemed to wave a special hello to me as the winter wind blew outside.
The next morning, before I returned to Greenwich, I went down to the kitchen and found a black Sharpie. I then hustled upstairs, opened the pull-down attic, and quickly made my way to the place where I had made a reading spot for myself two decades earlier. On a sturdy beam above, which faintly smelled of New England maple, I wrote, "My family lived here from April 30, 1955, to February 25, 1993. IT WILL ALWAYS BE HOME. Shaun Kelly."
After Mom moved away, I would periodically drive by our old house and visit Dad up at Woodlawn Cemetery. 48 Radcliffe Road was upgraded, and an addition to the living room and dining room areas made the house even more livable. Still, if you viewed it from the front, it looked the same. When my mother called me one day in November 2005 and informed me that she had terminal cancer, I flew down to Florida to see her after Thanksgiving. When we said goodbye to one another, she whispered to me, "I'll be with Dad soon, and we'll both be overlooking the house."
On July 6, 2018, I received a Facebook message from an old Wellesley friend who still resided in the town. "Shaun," it read, "your old house was struck by lightning. The place is crawling with firemen and firetrucks. There's a lot of damage. I am so so sorry."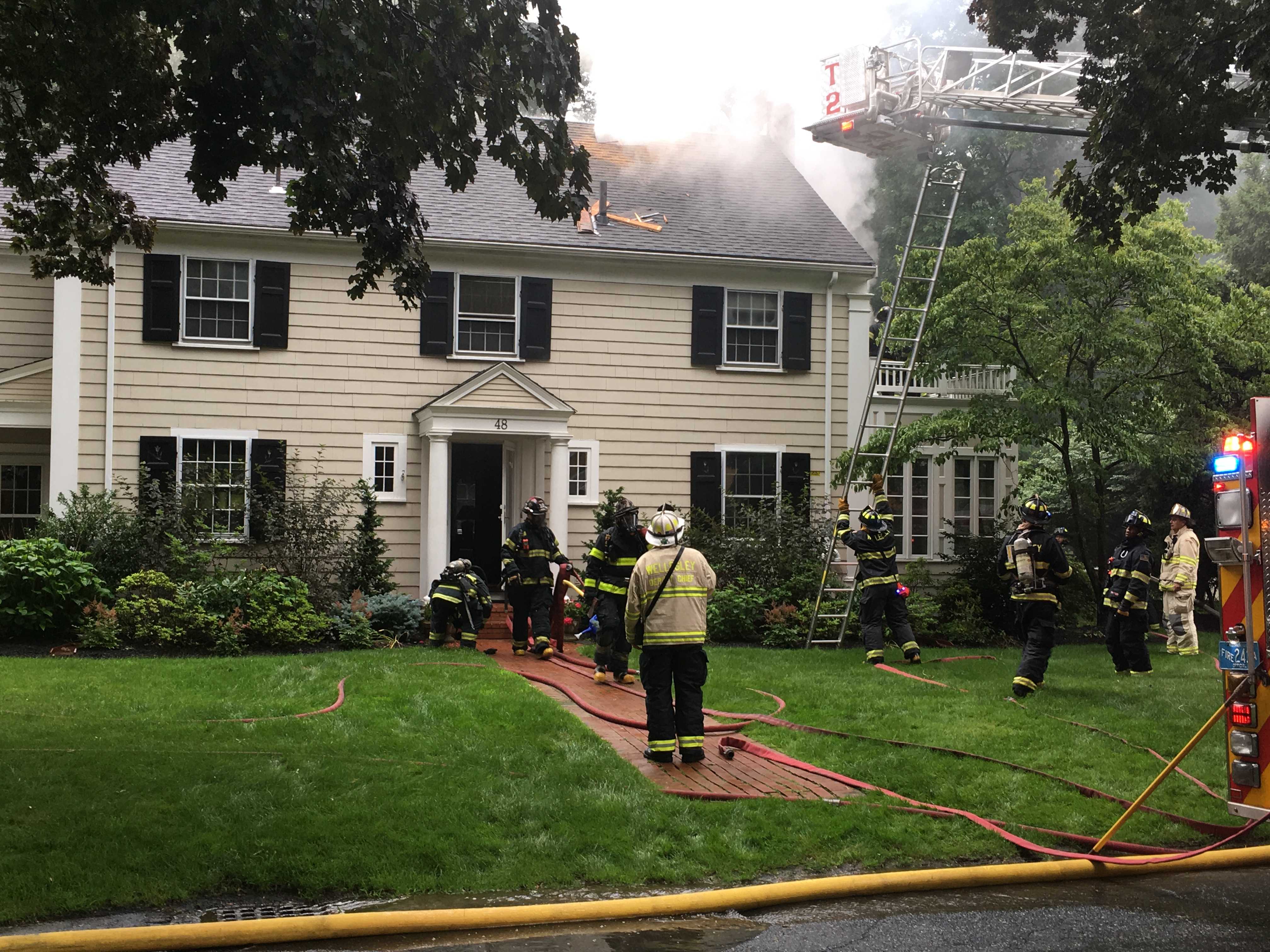 The damage from the Fays' house at 51 Radcliffe Road. The hole on the right side of the back of the house was where my sister's bedroom used to be.
According to The Wellesley Townsman in its July 10, 2018 edition, "Firefighters from Wellesley and four other towns made quick work of putting down a lightning-caused residential fire on Friday, but the blaze left behind an estimated $750,000 in damage to the house and its contents. Jeff Peterson, assistant fire chief, said the firefighters were dispatched to 48 Radcliffe Road at 12:47 p.m. 'The home's owners were away in Maine, and the fire was reported by a neighbor. Between the structural damage and water and smoke damage, the house will not be immediately habitable. The five-bedroom home was built in 1955,' said Peterson."
The fire at 48 Radcliffe Road was one of the lead stories that evening on the local Boston TV 4 News.
As soon as I received the message from my Wellesley friend, I frantically called my sister, Karen, after I heard about the fire. "An errant lightning bolt during a thunderstorm hit the attic, seared through to your old bedroom, and created havoc everywhere!" I exclaimed. We were both in shock. The Wellesley Townsman later reported that the house was uninhabitable.
A month later, I visited Wellesley before an afternoon Sox game at Fenway Park. On a whim, I parked my car at the Wellesley High School parking lot and walked home, as I had done countless times throughout the early 1970s. Every corner, pathway, and street seemed to greet me like an old friend. As I shuffled up Hobart Road to the crest of Radcliffe, I was astonished to see our former house standing resolute and matronly, wounded but still very much alive.
At first glance, there seemed nothing awry with the structure, but then I saw the gaping hole in the roof on the right side of the structure, and I knew that I was probably seeing our old dwelling for the last time. I smiled briefly when I saw that my bedroom, which was at the other end of the damage, still looked pristine and impenetrable. Observing that no one was in the house, I sauntered up to it, pressed my left hand against its familiar wooden side, and held onto our home for a spell. It was my last goodbye. Ultimately, the original house at 48 Radcliffe Road was never inhabited again. The bolt of lightning had done too much damage.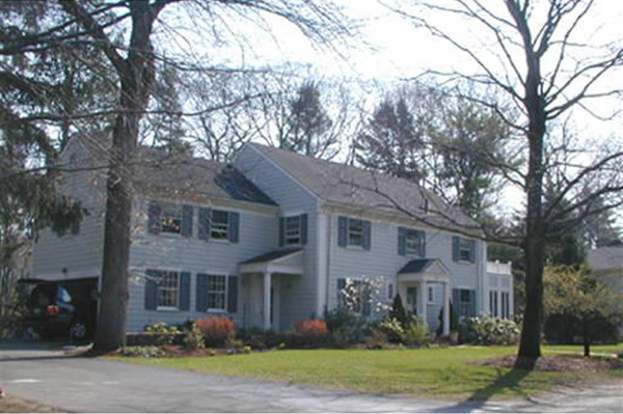 48 Radcliffe Road in 2017 the year before the fire, a 63-year-old beauty.
For 63 years, two months, and six days, the house had been the nerve center for three families who all grew to love its warmth. In a Frostian kind of way – what other connection can I make here, especially as a lifelong New Englander, 48 Radcliffe Road began in ice and ended in fire. I guess that houses are like people – some you like and some you don't like – and once in a while, there is one you love.
Not long after I discovered that the old abode would be demolished and a new one put up in its place, I drove up to Woodlawn Cemetery in 2019 on a windswept April morning and decided to view it all from the perspective of my parents' grave. Where once our house dominated the view from the back of Woodlawn Cemetery, there was now an empty lot of chocolate-brown dirt that stood out like a moonscape in contrast to the overarching greenery snaking around it. At that moment, I felt that I had just lost a limb. Of course, 48 Radcliffe Road and I had parted ways before, but it was always temporary. It had stood like a recalcitrant icon years after I had last walked through its timbered hallways. After we moved away, I sometimes found myself aching for its distinctive smells and its numerous crevices.
As I grew older, however, I came to realize that the memories of childhood are the specters that stay with you after you wake. In reality, our house was in the past, much like a breeze that had blown out to sea. Still, it was gone, and the only family residents left in Wellesley were buried less than a two-minute walk from a place that no longer existed. As I took it all in, I blinked a few tears and then slumped back into my car, grieving for the loss of my parents, my childhood, and the home that had disappeared, like a mystical Brigadoon, into the mist of time.
Goodbye, Old Girl.