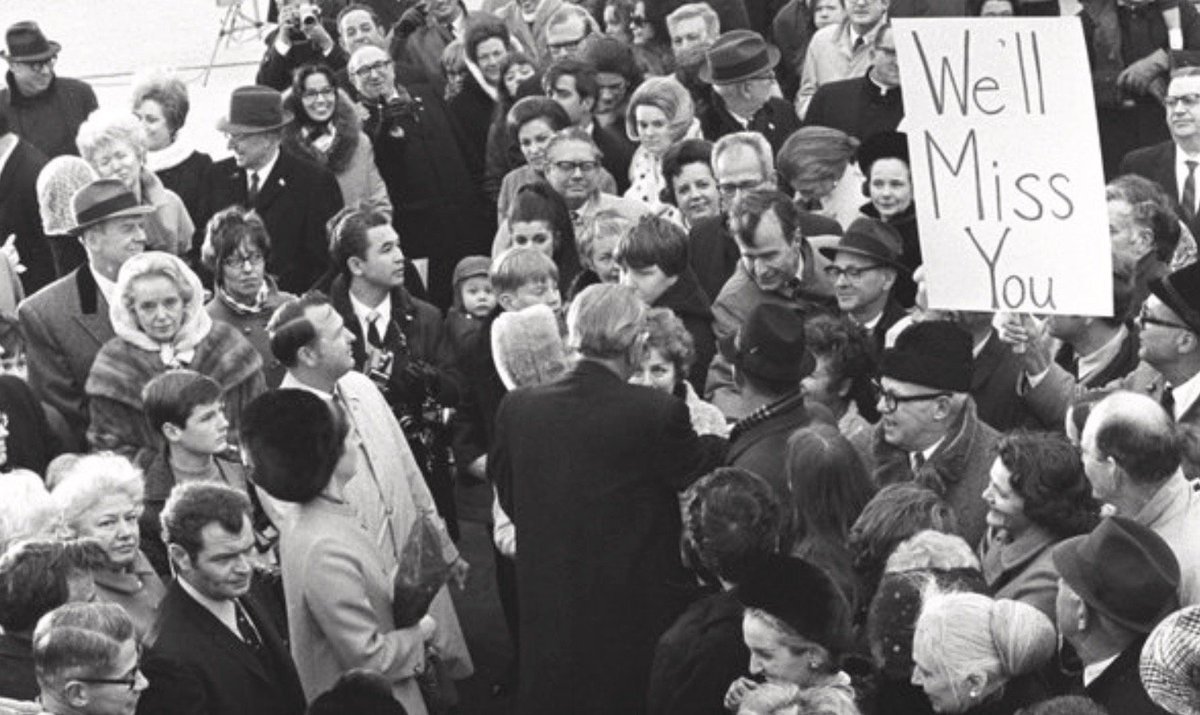 On January 20, 1969, Lyndon Johnson left the steps of the Capitol Building after attending the swearing-in ceremony of his successor, Richard Nixon, profoundly dejected and forlorn. "At least I won't hear kids chanting, 'Hey, Hey, LBJ – HOW MANY KIDS HAVE YOU KILLED TODAY' anymore," he quipped to his longtime aide, Bill Moyers, as they motored to the airport.
When the former President arrived at Andrews Air Force Base to fly back to the LBJ Ranch outside of Austin, he was momentarily uplifted when a few hundred Democratic supporters unexpectedly greeted him in front of Air Force I, many of them veterans of the Civil Rights Movement. There was one solitary Republican in the crowd amidst a sea of Democrats who had come to pay respects to former President Johnson as well:  then-Congressman George H. W. Bush of Texas.
"Good luck and thank you, Mr. President!" George H. W. Bush shouted out to LBJ as they shook hands. Lyndon Johnson never forgot it.
When asked later why he was there to wish the nation's 36th president well in retirement, Congressman Bush answered, "President Johnson is from Texas, he was our Commander and Chief for more than five years, and I felt it was the right thing to do even though I disagreed with him politically."
It is that kind of decency that we are saying goodbye to this week.