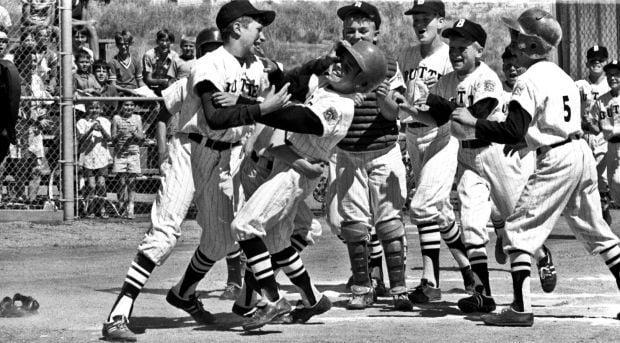 At the corner of Pond Road and Lake Farm Road in Orleans, Cape Cod, Massachusetts, in the backyard of a residential home, you can find remnants of a former baseball field where hundreds of boys played competitively from 1930 to 1984. A traditional Cape Cod dwelling sits in the former outfield, with weathered shingle siding, a centralized chimney, and double-hung windows and shutters.
When I began to scrape on the plastic rubber on the mound to start the bottom of the first inning, I immediately noticed that the ground below me was hard-topped and flat. It reminded me of pitching on my driveway back in my hometown of Wellesley, Massachusetts. "Home advantage," I thought. When I quickly dispersed the first three batters by called third strikes, I grinned as I sprinted off the mound.
Because we were considered "junior players" – meaning under twelve years old at the time, our contests were six-inning affairs. When I dispatched three of Lake Farm's clearly intimidated batters with three more strikes out in the fourth inning, Coach Sandy patted me on the shoulder and bellowed, "12 up, 12 down – all K's!"
By that time, I knew that something special was happening on the little ball field at Lake Farm. I not only had perfect control of my fastball, but my "wrinkle," a cut slider I had literally learned how to throw in a book on baseball techniques, was relentless. For most Lake Farm batters who had never seen any movement in their young lives, it must have been terrifying, especially given the fact that I was throwing from 46-feet -the standard Little League distance at the time.
For much of my four-decade plus pitching career, I normally pitched defensively and used control and changing speeds to counteract any hitting prowess. (When my son, Max, asked me how I pitched in high school, college, and beyond, I replied, "Nibble, nibble, nibble.")
On this day, however, I was not only blowing people away but getting batters out with a slider that invariably broke over the plate at the last instant. More than a few batters ran away from my slider as it approached Teddy Freeman's chocolate-brown catcher's mitt. In the vernacular of modern baseball lingo, the Lake Farm batters were "overmatched."
Like a cloudless, warm summer's day without humidity, the days that you can call "perfect" are few. It almost seems as if by accident or Godly intervention, everything appears flawless. Every couple of times each baseball season, there would be times when I seemed nearly immortal – just like those unblemished days that come around as if by happenstance.
In the bottom of the fifth, safely in front by seven runs and having not given up a hit or walk at the time, I became careless after an easy first strike. When I then hung a slider that perished at the plate and was subsequently whacked by a grateful batter down the left-field line, I disgustedly ran off the mound and bore in on my left fielder. When the rocket landed a foot foul, I breathed a sigh of relief. A moment later, I struck out the offending hitter on a fastball, tying him up on the inside part of the plate.
As I began my trek to the mound to begin the last inning, Coach Sandy, whose enthusiasm was such that he discarded the ancient superstitions of baseball and reminded me OUT LOUD that I had struck out every batter thus far, I winced reflexively. He then motioned to the boys on the bench to root like crazy for me. I huddled with catcher Teddy Freeman and told him, "Nothing but my fast ball now. They are looking for the slider." Less than five minutes later, I had not only struck out the side, but I had done so on nine pitches, all strikes.
At the end of the game, my teammates swirled around me like lemmings and hoisted me into the air. Coach Sandy, who would eventually lose his innocence along the Ho Chi Minh Trail two years later, hugged me hard as we headed for the camp van. "You will never have another day like this one, Shaun," he exclaimed.
He was right.
Out of the crooked timber of life, I had briefly stumbled upon that one straight line. On an obscure baseball field in Orleans, Massachusetts when I was 11, I experienced unadulterated perfection by striking out all 18 batters I faced.
These days, when I now find myself caught between the harrowing bookends of a worldwide pandemic and the deterioration of our most coveted societal possession, democracy, I sometimes find myself tossing and turning at night. I then close my eyes and imagine that I am a boy once more, fearless, unvanquished, and divine as I pitch against Lake Farm Camp one more time. Usually, I fall right off to sleep.
Given all of the faulty, second-rate days I have experienced since 1966, I have come to recognize that perfection is a stick with which to beat the possible. If you experience such magnificence just once in your life, then the Gods have temporarily welcomed you to the seedbed of immortality.
For a brief and shining moment, it was a wondrous place to be.