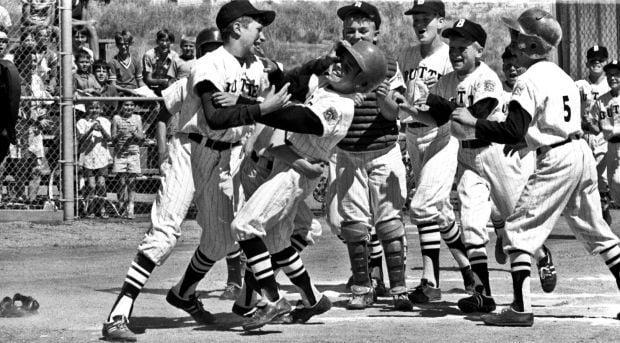 At the corner of Pond Road and Lake Farm Road in Orleans, Cape Cod, Massachusetts, in the backyard of a residential home, you can find remnants of a former baseball field where hundreds of boys played competitively from 1930 to 1984. A traditional Cape Cod cottage now sits in the former outfield, with weathered shingle siding, a centralized chimney, and double-hung windows and shutters.
Recently, after explaining my connection to the property, I asked the owner if I could walk about his yard a bit. After listening to my story, he smiled and nodded affirmatively.
"It would be an honor for me if you did so," he replied.
The land of the former camp that I walked on that day had an inspiring beginning. In the fall of 1929, Mrs. Margery Plimpton Felt, a veteran New York City private school teacher, felt the need to bring some of her Manhattan-resident students up to her Cape Cod summer home and give them a summer experience on a country farm with animals.
Ultimately, eight boys opened the camp in 1930, which was situated less than a mile from downtown Orleans, a modest, picturesque community on the forearm of the Cape, 30 miles south of historic Provincetown. As Lake Farm Camp grew, buildings were added. Each camper had his own garden and participated in a variety of animal-related jobs. Activities included riding, swimming, arts and crafts, and baseball. 
In July 1966, when I sauntered onto the baseball field at Lake Farm Camp as a visiting pitcher representing Namequoit, a nearby residential summer camp, I was 11, tall for more age, gangly, and steeped in the wellspring of what was then America's national pastime. It was a gusty summer's day when my teammates and I showed up to play an afternoon contest against rival Lake Farm. I quickly surmised that the field there was uneven, ladened with a sandy undertow in the outfield, and contained a rickety backstop that pleaded for restoration.
Within minutes, my coach, an effusive counselor from Long Island named Sandy informed me that I would be the starting pitcher that afternoon, and that I should promptly begin to warm up. A minute later. I motioned to my buddy, Teddy Friedman, Namequoit's unswerving catcher, to commence tossing the ball back and forth with me in warm-ups.
That afternoon, I wore a blue baseball cap with an N for Namequoit on the bill. A fresh and saltwater sports camp for boys 8-15 since 1925, Namequoit was subsequently directed by the venerable Art Farnham, who would serve as the camp's Philosopher King for more than four decades. Sailing, swimming, and tennis were featured with sailing instruction and racing held in nearby Pleasant Bay. Baseball was one of the primary athletic land activities for most boys, with tennis, riflery, and archery being the others. In 1966, campers hailed from more than 30 states and 10 foreign countries. At the time, locals viewed Namequoit as a stately Lincoln Chrysler in contrast to Lake Farm's unpretentious Dodge Dart. 
After the Namequoit nine got off to a quick start with three runs in the top of the first inning, I loped out and began scraping on the plastic rubber on the mound. Instantly, I noticed that the ground there was hard-topped and flat. It reminded me of pitching on my driveway back in my hometown of Wellesley, Massachusetts. "Home advantage," I thought. I then quickly dispersed the first three batters easily.
Like a cloudless, warm summer's day without humidity, the days that you can call "perfect" are few. (In retrospect, it seems as if by accident or Godly intervention when everything appears flawless.) Nevertheless, a couple of times during each baseball season, my performance level mirrored those rare, unblemished days that come around as if by happenstance. I grinned inwardly as I left the mound after easily striking out the side in the first.
It was going to be one of those days.
As the innings flew by, I began sprinting out to the mound and started pounding the required seven warm-up pitches to catcher Teddy Friedman. On that day, I had the eyes of a killer. My self-confidence was supreme; this evidential factor clearly intimidated the opposing batters who reluctantly approached home plate as if they were about to have a cavity filled without Novocain. Later on, when I dispatched all three Lake Farm batters with three more strikeouts in the fourth inning, Coach Sandy patted me on the shoulder and bellowed, "All right, Kell! 12 up, 12 down – all K's!"
By that time, of course, I knew that something special was occurring on the little ball field at Lake Farm. I not only had perfect control of my fastball, but my "wrinkle," a cut slider I had literally learned how to throw in a book on baseball techniques, was unabating. For most Lake Farm batters who had never seen any movement in their young lives, it must have been terrifying, especially given the fact that I was throwing from 46-feet -the standard Little League distance at the time.
For much of my four-decade plus pitching career, I characteristically pitched defensively and used control and changing speeds to counteract any hitting prowess. (When my youngest son, Max, asked me how I pitched in high school, college, and beyond, I replied, "Nibble, nibble, nibble.") On this day, however, I was not only blowing people away but getting batters out with a slider that inevitably broke over the plate at the last instant. More than a few batters ran away from my slider as it approached Teddy Friedman's chocolate-brown catcher's mitt. In the vernacular of modern baseball lingo, the Lake Farm batters were "decidedly overmatched."
In the bottom of the fifth, safely in front by seven runs and having not given up a hit or walk at the time, I became careless after an easy first strike. When I then hung a slider that perished at the plate and was subsequently whacked by a grateful batter down the left-field line, I disgustedly ran off the mound and bore in on my left fielder. When the rocket landed a foot foul, I breathed a visible sigh of relief. I then called time, took a deep breath, and then reverted to my previous mindset. Nothing else mattered now but the next pitch. A moment later, I struck out the offending hitter on a fastball, which tied him up on the inside part of the plate.
As I began my trek to the mound to begin the last inning, Coach Sandy, whose enthusiasm was such that he discarded the ancient superstitions of baseball and reminded the team out loud that I had struck out every batter thus far, I winced reflexively. He then motioned to the boys on the bench to root like crazy for me. I huddled with catcher Teddy Friedman and informed him, "Nothing but fastballs now. They are looking for the slider." Less than five minutes later, I had not only struck out the side, but I had done so on nine pitches.
A perfect inning to end a perfect game.
As the last strikeout was called, my teammates swirled around me like lemmings and hoisted me into the air – the only time I would ever be carried off any baseball field. Coach Sandy, who would eventually lose his innocence along the Ho Chi Minh Trail in January 1968, hugged me hard as we headed for the camp van. "You will never have another day like this one, Shaun," he exclaimed. He was right. Out of the crooked timber of life, I had briefly stumbled upon that one straight line. On an obscure baseball field in Orleans, Massachusetts, I experienced unadulterated perfection by striking out every batter I faced.
These days, when I now find myself caught between the harrowing bookends of a worldwide pandemic and the deterioration of a traitorous, bigoted president, I sometimes find myself tossing and turning at night. I then close my eyes and imagine that I am an eleven-year-old boy once more, fearless, unvanquished, and divine as I pitch against Lake Farm Camp one more time. Considering that Lake Farm and Namequoit both closed down as camps more than three decades ago when tax-assessment prices began to skyrocket on the Cape, such dreams are far-fetched at best. Usually, though, I drift right off to sleep. 
Given all of the faulty, second-rate days I have experienced since July 1966, I now realize that perfection is a stick with which to beat the possible. My many defeats and a handful of victories prove that I have inevitably been a player. However, because I experienced authentic magnificence for a brief, shining moment in July 1966, I also know that the baseball gods temporarily welcomed me to the rarefied air of immortality for one brief and shining moment.
All of these years later, it still feels like heaven.